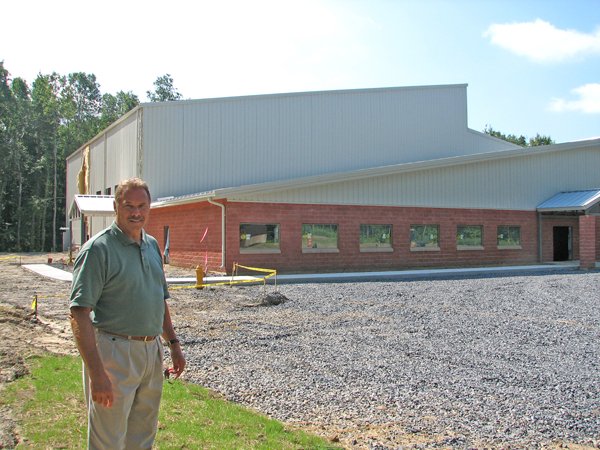 Saratoga — The Town of Halfmoon will have a "state-of-the-art" recreational facility featuring an indoor climbing gym, multipurpose gym and café in October when Capital District Youth for Christ opens the doors of its latest ministry site.
"It's going to become a place where kids can hang out," said John Richmond, executive director of CDYFC.
The Christian youth ministry is in the midst of constructing a 27,000-square-foot rec center on Route 9 adjacent to Wal-Mart. The 12,0000-quare foot indoor rock climbing gym is the cornerstone of the project, said Richmond, and for good reason.
"We had been involved with kids and rock climbing for years. We've had indoor rock climbing leagues, traveling all-star teams and we've sent kids to national competitions in rock climbing and we found this is a great avenue to be able to not only build relationships with kids but have a positive influence in their life," said Richmond.
For an organization that seeks to improve the lives of youth across communities, rock climbing has proved to be a useful avenue of ministering.
"This is more interactive when you're with a person, how you're having to reach for the hold and the person can help you down underneath," said Richmond.
The indoor facility will have 40 ropes and be called "The Edge."
The 8,000-square-foot multipurpose gym will feature an indoor skate park, traditional sports and space for larger concerts.
"We're creating a space that will be very attractive to young people in the area," said Richmond.
The café will have a coffee bar, WiFi, large screen televisions and comfy chairs for kids to meet friends or do homework. There will also be a space for small bands to perform.
"They can have a little place to come," said Richmond.
There will also be office and meeting space.
The facility is located next to Shiloh's Edge Challenge, an existing outdoor ropes course that ha attracted groups from all over the state. The challenge course helps individuals gain skills needed to tackles "obstacles of life" by building trust, leading others, improving self-worth and effective communication.
(Continued on Next Page)
Prev Next
Vote on this Story by clicking on the Icon