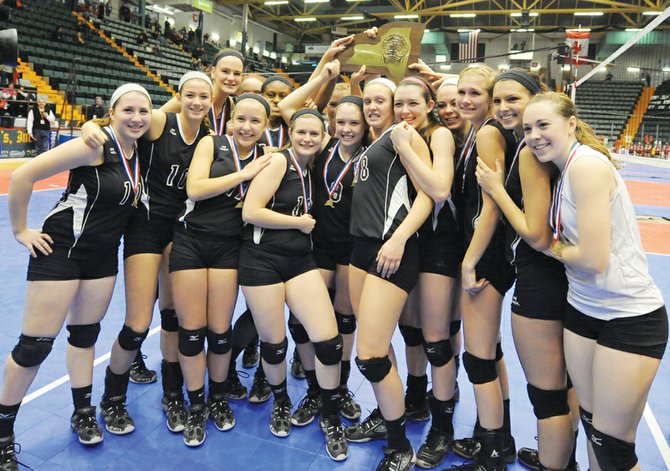 Natalie Ziskin let out a sob underneath the Glens Falls Civic Center stands following Sunday's Class A state girls volleyball final.
These were not tears of anguish, though. These were tears of joy.
Ziskin and her Burnt Hills-Ballston Lake teammates ended a six-year state title drought by beating Section V's Mercy High School 3-1 in the championship match.
Ziskin and tournament most oustanding player Kaitlyn Valade were two of six seniors back from last year's BH-BL team that lost in the state finals to another Section V school, Pittsford Sutherland.
"I think [playing in] last year's final was huge for us because we were on the other side of it last year, and we didn't want that feeling again," said Valade.
"From the day we started this two-day experience in Glens Falls, the seniors have been unbelievable for us," said BH-BL coach Gary Bynon, who coached the Spartans to their fourth state championship. "All the years of playing volleyball paid off for them."
Mercy didn't make things easy on BH-BL. The young Monarchs -- a team made up of mostly sophomores and juniors -- made enough plays to keep the scores close in all four games before falling to the older and more experienced Spartans.
"One thing about Mercy is that they are a great team. They never gave up," said Valade.
It looked like BH-BL was going to run Mercy off the court in the first game. The Spartans scored the first five points and eventually built an 18-9 advantage, but the Monarchs rallied and closed the gap to 21-20 before BH-BL pulled out a 25-21 victory.
Mercy had the upper hand in the second game as it grabbed a 12-7 lead. BH-BL chipped away at the deficit and tied the game at 22 before Mercy regained the lead on a side out. The Spartans scored the last three points, though, to take the second game 25-23.
(Continued on Next Page)
Prev Next
Vote on this Story by clicking on the Icon