SARATOGA COUNTY — A man who kidnapped, coerced and lured three young boys into his control and then sexually assaulted them will serve 20 years and 6 months in prison for his crimes.
Eric Loeser, 23, of Clifton Park, was sentenced today in a Saratoga County Court. He was also sentenced to 20 years of post-release supervision and will have to register on the state sex offender registry.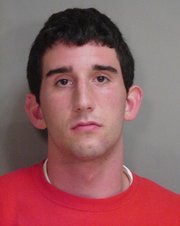 In a statement, Saratoga County District Attorney James Murphy recounted how Loeser met one victim, 15, as an EMT, befriended the teen and then abducted him from his home. He traveled across three states avoiding police before he "dumped" the child at an apartment complex in Buffalo.
Loeser also befriended and sexually assaulted a 9-year-old boy in 2009, and also a 13-year-old boy.
Murphy called Loeser "the definition of a child predator."
"He lies in wait until an unsuspecting child comes along and then lures the child in building a trusting and friendly relationship on the surface with his sexual desire raging just below the surface. These children were no match against a man who plotted and schemed to kidnap and sexually abuse these boys. He must be permanently removed from our community, or no doubt he will prey on more unsuspecting children," Murphy said in a statement.
Loeser pleaded guilty to a number of crimes in October.
A codefendant, Timothy Kaye, previously pleaded guilty to having been involved in the kidnapping of one of Loeser's victims. He previously was sentenced to 8 years in prison, 5 years of post-release supervision and placement on the sex offender registry.
Vote on this Story by clicking on the Icon