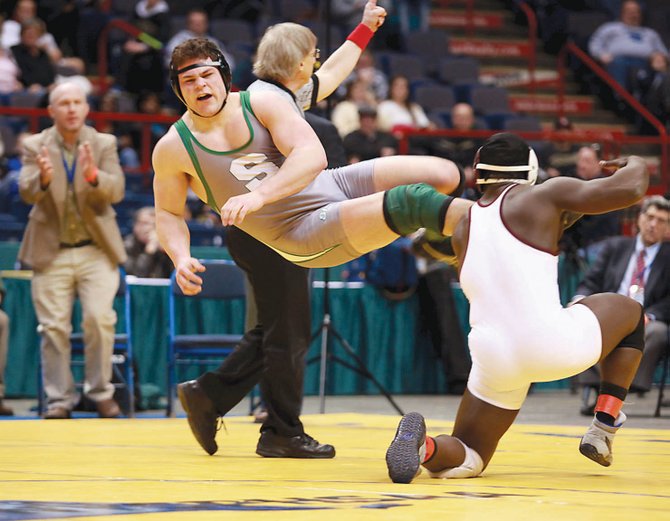 Winter
• The year began with a third Shenendehowa coach announcing his departure when boys soccer coach Mike Campisi said he was stepping down from the post he held for 32 years. Along the way, Campisi won 23 Suburban Council titles, 17 Section II championships and six state titles. Campisi's final career record was 534-91-60. Football coach Brent Steuerwald and girls basketball coach Ken Strube announced their retirements in the fall of 2011.
• The Shen girls basketball team fell short in its goal of giving Strube another Section II Class AA title when it lost to Big 10 champion Albany 52-46 in the semifinals. Strube – who announced his retirement prior to the start of the 2011-12 season – finished his career with a Section II-best 588 wins, 10 Sectional championships and four state titles.
• The Shen boys basketball team came close to ending Christian Brothers Academy's Sectional championship streak in the Class AA quarterfinals. The Plainsmen led 49-47 late in the fourth quarter, but the Brothers scored five points in the final 4.4 seconds to pull out a 52-49 victory. CBA went on to win its fourth consecutive Sectional title with an overtime victory over Troy in the finals.
• The Shenendehowa wrestling team had another successful run at the state championships. Tony Fusco won the Division 1 195-pound title by beating Johnson City's Reggie Williams 11-3 in the finals, while Nick Kelley (132 pounds), David Almaviva (138) and Cole Lampman (285) placed third.
• Shen pole vaulter Maddesen Weekes earned a state indoor track meet title when she cleared the bar at 11 feet, 9 inches. Weekes edged Colonie's Kara Snyder, who beat her for the Section II Division 1 title two weeks earlier. Shen's Caroline Hampton and Burnt Hills-Ballston Lake's Schuyler Pruyn were part of the Section II sprint medley relay team that won the state title with a time of 10:16.8.
(Continued on Next Page)
Prev Next
Vote on this Story by clicking on the Icon