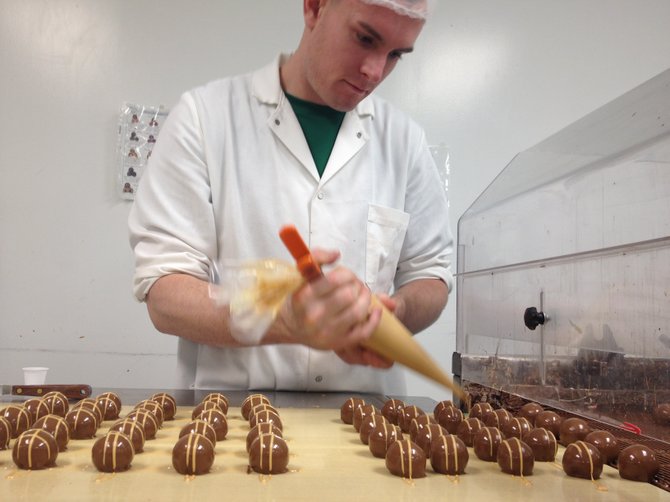 CAPITAL DISTRICT — Valentine's Day drums up visions of red heart-shaped boxes, tied with a gold ribbon and filled to the brim with decadent chocolate candies. But for some candy shops across the Capital District, there's another Valentine's Day treat in higher demand.
"Chocolate dipped strawberries are our biggest seller," said Mike Martoccio, store manager at Krause's Candy on Central Avenue in Albany.
The berries come doused in milk, dark or white chocolate and can be mixed and matched in half-, 1- or 2-pound boxes. Martoccio said they can be ordered ahead of time but closer to the holiday it's first come, first serve in the store.
Chocolate covered strawberries are also a hit at Candy Kraft Candies in Guilderland.
"Milk chocolate is the most popular and in recent years dark has been catching up," said Brad Pikcilingis, manager and son of the owner. "We take orders ahead of time if they want to guarantee availability but we have them in stock. … We've never run out."
The way Candy Kraft candymakers dip the strawberries is what sets them apart from other candy shops, said Pikcilingis.
"We take the hulls off and the stem out and dip the fat end of the berry so you can eat the whole thing," said Pikcilingis. "You get more chocolate and it's a nicer presentation."
The Candy Company of Saratoga Springs goes through about 10,000 hand-dipped chocolate strawberries each Valentine's week, said owner Dawn Oesch.
"The bestseller is our chocolate dipped strawberries. We get them in from California," said Oesch. "On the day of there's seven of us working, just dipping from early in the morning until late at night. It's pretty cool and messy."
Milk chocolate is the most popular, dark is the healthiest and white is for discerning tastes, said Oesch.
"It's a classy present and not too expensive, only $14.99, so you can impress without breaking the bank," said Oesch. Twelve strawberries come in a box.
(Continued on Next Page)
Prev Next
Vote on this Story by clicking on the Icon