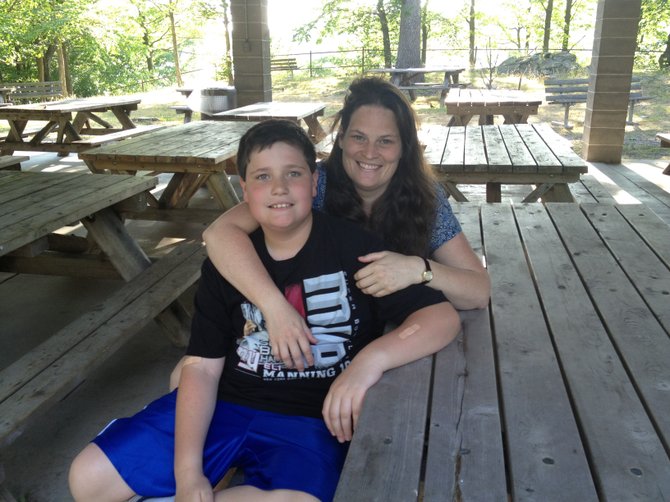 CAPITAL DISTRICT — Buddy Washburn looks like a typical 11-year-old. He's hyper. He has a wide, toothy smile and a laugh that shakes his whole body and lights up his whole face. He's obsessed with cars and loves to swim. He talks a mile a minute and is on the honor roll at Sand Creek Middle School.
But under all those "regular" adolescent things lies what his mother, Trish Washburn, calls an invisible disability that can make everyday life a struggle. Buddy has autism.
"When you look at Buddy, he looks like a regular kid and that's the hardest part. People don't understand when he does something not normal, whatever normal means," said Washburn. "People expect [him] to be able to do things that he can't."
Buddy was diagnosed with autism before the age of 2. Ever since then, Washburn's motto has been "exposure, exposure, exposure."
"It's really important for me to expose him to everything that I can," she said.
So far, she's been able to do just that, from getting him on a recreational swim team to bringing him on family vacations to the beach, despite fears that he'd "freak out" because of the salt water and sand.
But there's one place close to home that she was having trouble getting Buddy exposed to: town parks. The Mohawk River Park, with the big pool, charges visitors to enter, and although a few dollars in gate and pool fees seems nominal, Washburn said in her household, it's anything but.
"It sounds silly, but $3 or $4 to come here is [a lot], especially if you want to come regularly and expose your kid to different things," said Washburn. "For families like ours, we have so many expenses."
Washburn knew how to get around the fees. The Access Pass gives people with disabilities free entrance to New York State parks. Each town approaches it a little different, though, and a resolution of some sort needs to be passed for it to take effect.
(Continued on Next Page)
Prev Next
Vote on this Story by clicking on the Icon