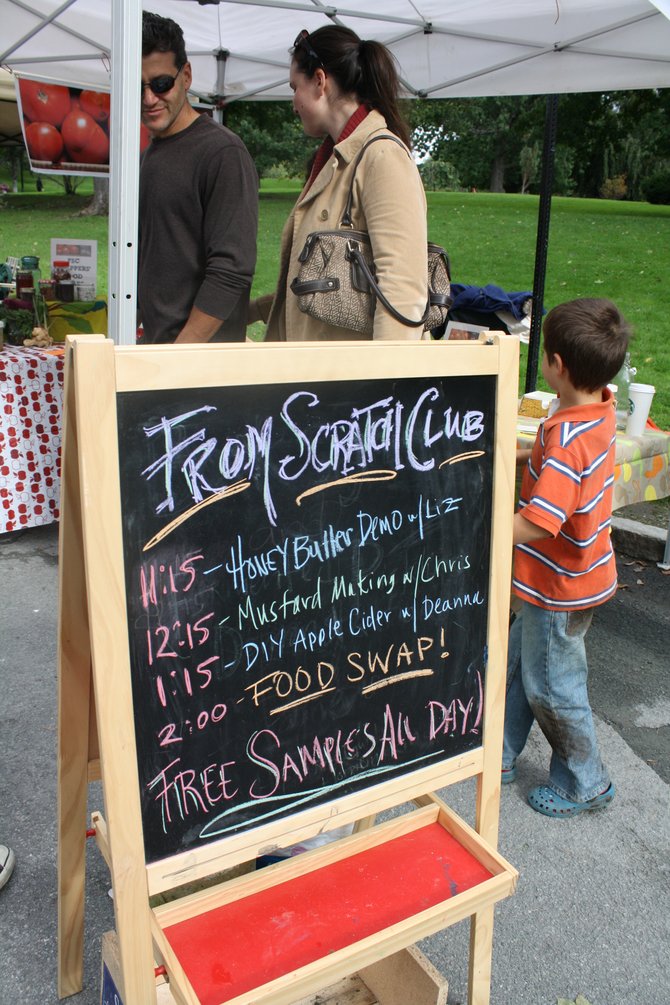 CAPITAL DISTRICT — There's no doubt farmers markets are increasing in popularity, but for cooks who are used to the grocery store's shelves, figuring out what to do with a bounty of raw materials can sometimes be a challenge.
Enter the From Scratch Club, a group that's becoming more and more involved in the local food movement. Its founder, Christina Davis, advised beginner home cooks to "keep it simple" — and that's what her group is doing too, by and large.
"Our mission is basically to encourage and inspire everyday people to get back into the kitchen, their gardens and the community – visit a farmer and buy food from farmers. The idea is to sort of lift the veil on it (local food)," said Davis, who lives in Milton.
The club is a network of growing knowledge about local food and its members are willing to share what they learn, offering food swaps (open to the public and free, donations accepted) and do-it-yourself classes held at various locations throughout the Capital District.
They can also be seen at area farmers markets offering recipes and cooking tips.
"Christina (Davis) is especially involved with the local food movement, she's a really good source for people and it's amazing how much knowledge she has," said Josh Rockwood of West Wind Acres Farm in WestCharlton.
Rockwood and his wife Stephanie are among the many young farmers taking to the field raising grass-fed beef. They have hosted farm tours for the From Scratch Club at their farm.
"She kind of really helped form marketing (of local food) … she's a cheerleader … food swaps are a great way to meet people interested in local foods. We're going to be taking some food preservation classes. She's doing a lot of amazing things. Not only how to get it, but how to preserve it. Knowing where your food is coming from is becoming more important, especially with outbreaks (of food-borne illnesses)," said Rockwood.
(Continued on Next Page)
Prev Next
Vote on this Story by clicking on the Icon