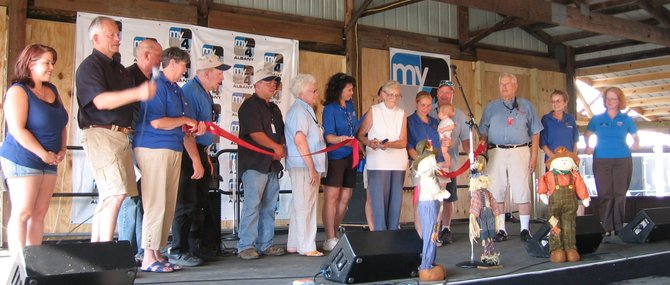 BALLSTON SPA — The Saratoga County Fair is well underway, but before the first guests entered the gates, fair dignitaries and volunteers were already predicting a banner year based on fair memories.
"This year I think the question is what's not new," Susan Farnsworth, a publicist for the fair.
As always, fair officials, local dignitaries and volunteers gathered on Monday, July 16, the night before the gates opened, to go over the coming week's events.
"I've been coming here since before I was 5 years old. I love this fair, it's part of the village," said Ballston Spa Mayor John Romano. He also thanked fair volunteers for making Ballston Spa a "destination place" and wished everybody fun times.
Indeed, the village's fairgrounds are expected to be host to as many as 100,000 visitors during the fair's run, which ends Sunday, July 22. During that time, attendees will enjoy over 3,000 exhibits along with midway rides, games and more.
Milton Supervisor Dan Lewza said that as part of their town's summer camp program, that kids would be attending the fair instead of The Great Escape, as per their usual camp trip.
"We should take advantage of what's in our own backyard and tome, this is the best fair. What we have to offer here is better than The Great Escape," said Lewza. Campers were set to visit the fair on Thursday, July 19.
Though the fair is a regional draw, this year's official beer and wine are all local. The fair beer is an as-yet-unnamed lager and comes fromThe Olde Saratoga Brewing Company. The wine is said to be light with fruity essences and comes from Ledge Rock Hill Winery in Corinth. It has been named The Saratoga County Fair Green Apple Blanc.
The beverages may be new to the fair, though the idea of getting locally produced foods is not.
(Continued on Next Page)
Prev Next
Vote on this Story by clicking on the Icon