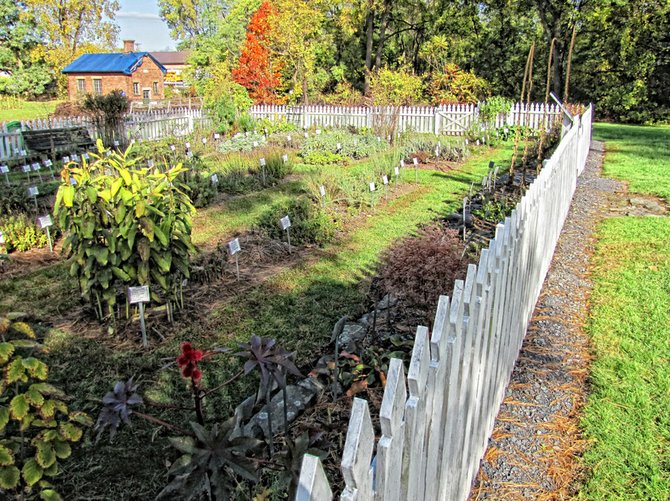 CAPITAL DISTRICT — When you dunk a teabag in a mug of boiling water, do you ever wonder how the mixture of herbs or tea leaves got in there?
Courtney Powers knows exactly what it takes to create the perfect bag of tea with a unique flavor profile, and on Saturday, June 23, at the Shaker Heritage Society she'll demonstrate how to tailor tea to any taste during a "Tea in the Garden" program.
"I didn't really care for some teas I purchased from other companies and I wanted to make one I liked," said Powers, who turned to tea after giving up coffee for Lent one year.
Powers will use herbs from the Shaker Heritage Society's massive herb garden and put her blends up to the public taste test. All it takes is a scale, a steady hand and a lot of trial and error.
"You have to balance the flavor but certain flavors are really overpowering," said Powers.
Powers will not only use herbs the Shakers fancied, like lemon balm or mint, but also pay homage to a practice that is uncommon today but was just another household chore in the 19th century.
"People were used to making their own tea. You didn't go to the store and buy tea in bags so it was just something people would do on their own," said Starlyn D'Angelo, executive director of the Shaker Heritage Society. "They would compress the herbs in bricks and basically wrap them in brown paper. Then they would do their own mixes at home."
Shakers didn't just use herbs for tea. Growing, packaging and selling herbs was one of the Shakers' biggest industries. In fact, the society's herb garden has more than 100 different herbs and an old brick drying house that needs a new roof.
In the 1800s, herbs were in high demand for both medicinal and culinary purposes. The Shakers were a primitive, outdoor warehouse of herb production and even took tips from neighboring Native American tribes to enhance their growing tactics.
(Continued on Next Page)
Prev Next
Vote on this Story by clicking on the Icon