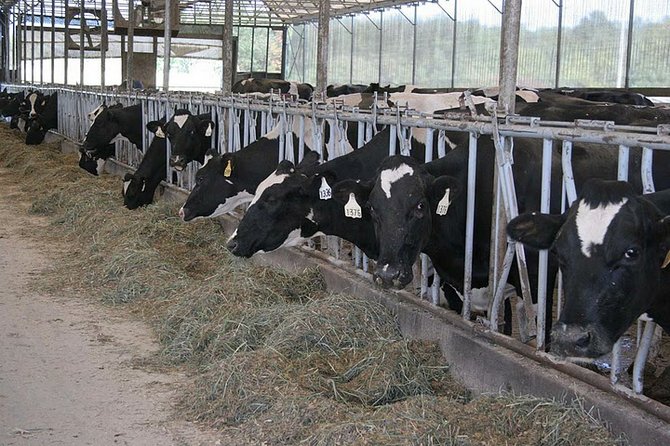 Ballston — The workings of a dairy farm are wide and wonderful, and if you've ever been curious about where milk comes from, your annual chance is fast approaching.
Sunday, June 17 (also Father's Day) marks Saratoga County's 17th Annual Sundae on the Farm at Eildon Tweed Farm in Charlton from noon to 4 p.m. The free event generally draws more than 2,000 visitors from far and wide and highlights one of the greatest resources of the county: agriculture.
"Most farmers are willing to work on Father's Day. We're used to seven day weeks," said David Wood, owner and operator of Eildon Tweed Farm. He also noted June is Dairy Month, which part of why the event always takes place this month.
The New York State Agricultural Society and Cornell Cooperative Extension are sponsoring the event, which has been held on farms in Northumberland and Saratoga in the past. Events of the day include a farm tour, horse-drawn wagon rides and cooking demonstrations. There's also plenty of food to be had (not free), including sausage and peppers, hotdogs, hamburgers, Stewart's ice cream and pie a la mode featuring pies from Smith's Orchard Bake Shop in Charlton.
"It's a great opportunity for people to see how food is produced… and to learn about the foods and fibers … the things that agriculture brings," Event Co-chair Penny Heritage said.
She also said holding a farm event draws attention to the fact farmers are stewards of open spaces and of businesses important to local economies. "Ideally, you want farmland in the economy," she said.
Wood and his wife Connie are happy to be hosting Sunday's event after first hosting it in 2000. Theirs is one of the biggest dairy farms in the region, with over 1,000 cows. In comparison, many herds in the area range from under 100 up to several hundred.
(Continued on Next Page)
Prev Next
Vote on this Story by clicking on the Icon