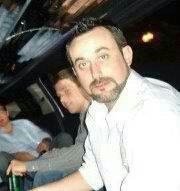 CAPITAL DISTRICT — Colonie police are asking for the public's help finding a missing Massachusetts man who was in the area for work.
Jason J. Yarnall, 34, was reported missing by his family on May 30 but the last time they spoke with him was May 5. Yarnall was originally in the area for a job at Hooter's Restaurant on Wolf Road but he hasn't worked there for at least six months, said police.
Yarnall's family said he may be depressed and suffering from alcohol or substance abuse issues.
Yarnall's ATM card hasn't been used in Colonie, Albany or Guilderland since May 28, said police, but it was previously used at area businesses, specifically ones with free wireless internet access. Employees of the Comfort Inn on Wolf Road believe Yarnall was there in the middle of May, not as a guest but just using their wireless internet, said police.
Yarnall's vehicle was located abandoned in the lot of the Towne Suites on Washington Avenue Extension where he was staying and police said they believe he left the vehicle because it no longer worked.
Yarnall is described as a white male, 5-foot 8 inches tall, 155 pounds with short dark brown hair, blue eyes and possibly a goatee or beard.
His family created a Facebook page to assist in the search, located under "Find Jason Yarnall." His case is also profiled at www.findthemissing.org/en/cases/14999.
Anyone with information can contact the Colonie Police Department at 783-2744.
Vote on this Story by clicking on the Icon