CAPITAL DISTRICT — Maria Flora never thought she had to worry about her young son playing in the front yard with her cousin's dog. But life changed in an instant for the Poughkeepsie mom when the pit bull decided to attack.
Five-year-old Frankie Flora was severely mauled by the dog and nearly lost his life on April 16, 2009. Four sections of his scalp were ripped to the skull and he needed donated skin. Frankie's right cheek was missing completely and the boy has gone through 25 procedures to reconstruct his face and rectify injuries to his legs.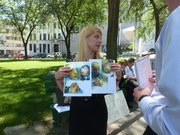 Now Frankie is 8 years old and a center on his local youth football team, and Maria Flora said doctors have called him a miracle.
"Frankie is able to blink, talk and smile now, which (doctors) can't understand. That is a gift from God," she said.
The Floras are now speaking out in venues across the state to promote a bill sponsored by Sen. Neil Breslin, D-Bethlehem. The proposed law would hold dog owners accountable for paying the medical bills of the victim should the dog bite or attack.
"We are here to speak on behalf of every victim in New York State who has ever gone through any type of dog injury," said Maria Flora at a recent press conference outside the Capitol. "We want to make the difference here, we want to help you."
Frankie said he doesn't remember much about the attack, but he knows it was scary and his recovery took a long time and was painful. He was in the hospital for two months after the attack.
"I remember I had to stay on the couch all day because I wasn't ready to walk. At first I was walking like an old man," he said.
Maria Flora said the hope is the legislation will make dog owners more cautious and will instill greater responsibility in taking care of their pets.
(Continued on Next Page)
Prev Next
Vote on this Story by clicking on the Icon