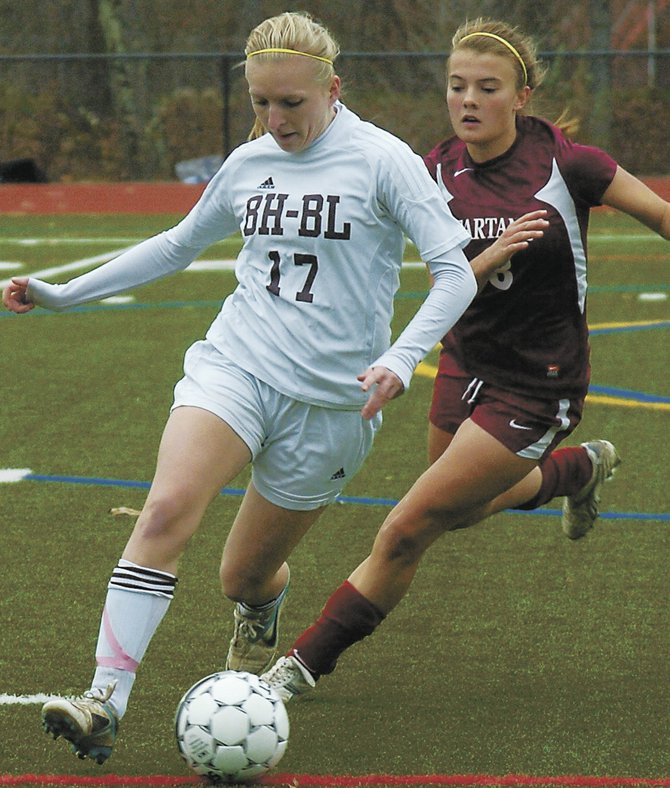 Stillwater — Eight years. Eight Section II titles.
That's the record Burnt Hills-Ballston Lake girls soccer coach Brian Bold owns following the Lady Spartans' 3-0 victory over Scotia-Glenville in Saturday's Class A Sectional final at Stillwater High School.
"Every year is different, and that's what is great about high school sports. You take a different group and try to take them as far as they can go," said Bold.
Two early goals by Meghan Malone helped BH-BL (15-4-0) take control against its neighbors from Scotia-Glenville (14-4-1).
"It's important because it puts them on their heels and sets the tone for the game," said Malone, who struck twice in the first 20 minutes of the game.
Scotia-Glenville made several bids to get on the scoreboard, but BH-BL goaltender Florie Comley made four saves to keep the slate clean. Holly Haner added a pair of saves in the final five minutes for the Lady Spartans.
"We knew it was going to be tough, but we got more offensive pressure on them than I thought we would have," said Scotia-Glenville coach Lise Williams. "We had a couple of good opportunities, and I was pleased with our passing."
"They gave us a run, and it was a good game," said Bold.
Skye Kaler added a goal less than seven minutes into the second half, and Morgan Burchhardt contributed three assists for BH-BL.
The Lady Spartans advance to Tuesday's regional semifinal at Fulton High School against Section III champion Jamesville-Dewitt.
"We're off to a bigger place, and we know what to expect," said Bold.
Vote on this Story by clicking on the Icon