Clifton Park — Everything worked right for the Burnt Hills-Ballston Lake football team in Saturday's Class A championship game against Amsterdam.
Photo Gallery
Photo Gallery: Burnt HIlls defeats Amsterdam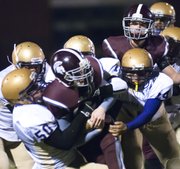 Burnt Hills Ballston Lake defeated Amsterdam 48-6 in the Section 2 Class A Superbowl on Nov. 3. The Spartans will face Potstam on Friday in Messena.
The Spartans (9-1) jumped out to a 27-6 lead in the first quarter and cruised to a 48-6 victory over the Rugged Rams (6-3) at Shenendehowa High School.
It's the fifth consecutive Sectional title for BH-BL, and its sixth over the last seven years.
"It's a great feeling," said BH-BL quarterback Ryan McDonnell. "The main goal every year is to get here, and to win it five years in a row is pretty special."
"They're all pretty special," said BH-BL coach Matt Shell. "We've had some great guys come through here in the last several years."
Amsterdam was in trouble from the start when it fumbled the opening kickoff. BH-BL recovered the loose ball on Amsterdam's 10-yard line, and Dan Porter scored on a 3-yard touchdown run two plays later to put the Spartans ahead 6-0.
The Rugged Rams marched down the field on their next possession, and quarterback Geo Rodriguez capped the series with a 2-yard touchdown plunge. BH-BL blocked the extra point, though, to leave the score tied at 6.
The touchdown drive turned out to be Amsterdam's lone highlight of the evening, as BH-BL's defense limited the Rugged Rams to less than 200 yards of offense.
"We had a good preparation week, and we knew what they were capable of doing," said Shell.
The Spartans regained the momentum quickly. On the ensuing kickoff, Michael Danz pitched the ball back to Shomari Ingram, and the senior receiver took off on an 89-yard touchdown run to give BH-BL a 13-6 lead.
"We worked on it all week, so it was something we hoped to execute tonight and we did," said Shell.
Ingram's kickoff return was the beginning of several big plays by BH-BL. Dan Maynard took off on a 47-yard touchdown run later in the first quarter, and McDonnell added a 40-yard scoring scamper a short time later to put the Spartans ahead 27-6. Josh Quesada (32 yards) and Maynard (44 yards) scored in the second quarter to put the game out of Amsterdam's reach.
(Continued on Next Page)
Prev Next
Vote on this Story by clicking on the Icon