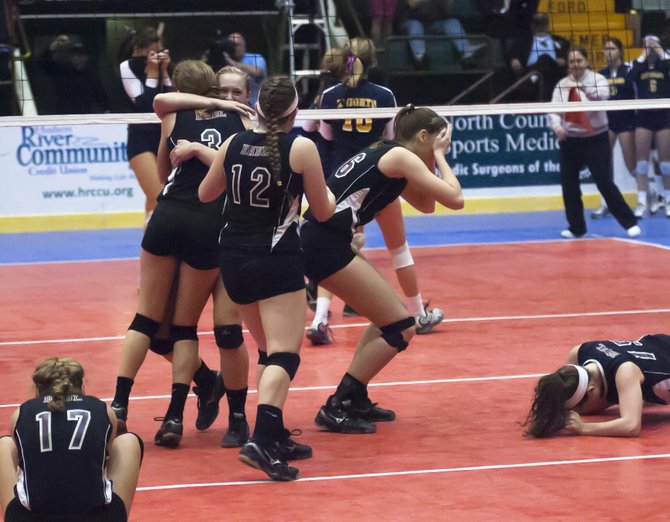 Glens Falls — Determination and perseverance triumphed over brute strength.
The Burnt Hills-Ballston Lake girls volleyball team won its second consecutive state title by beating Section V's Pittsford Sutherland 3-1 in Sunday's Class A final at the Glens Falls Civic Center.
The match was not as simple as the outcome appeared on the surface. BH-BL scrambled, lunged and dove for every shot Pittsford Sutherland sent its way, which extended numerous volleys to extraordinary lengths.
"We made them work for everything," said BH-BL coach Gary Bynon. "There was nothing given. Everything was just earned."
Even when Pittsford Sutherland thought it had BH-BL backed into a corner, the Spartans found a way to get themselves back in the match. That was especially true in the first set when the Knights jumped out to an 18-10 lead, only to see BH-BL score nine of the next 10 points to tie the score at 19-19.
"That was just huge. They just kept answering," said Bynon. "I can't explain what these girls do."
Pittsford Sutherland finally prevailed 25-21 in the first set, but the pattern was set for the rest of the match. As hard as the Knights hit the ball, BH-BL fought just as hard to keep the ball in play. Led by senior libero Siena Wilder, the Spartans recorded 116 digs over the four sets.
"We knew going into this match that they have some great hitters," said Wilder, who had 38 digs. "Coach (Bynon) always says put your body in the way of the ball."
The second set featured several lead changes until the long rallies started rattling Pittsford Sutherland. The Knights had several long hits for side outs, which helped BH-BL pull away for a 25-22 victory and evened the match at one set apiece.
The Spartans looked like they had broken Pittsford Sutherland's spirit when they raced out to an 8-1 lead in the third set. The Knights gathered themselves and rallied to take a 20-19 lead, but BH-BL scored six of the last eight points to prevail 25-21.
(Continued on Next Page)
Prev Next
Vote on this Story by clicking on the Icon