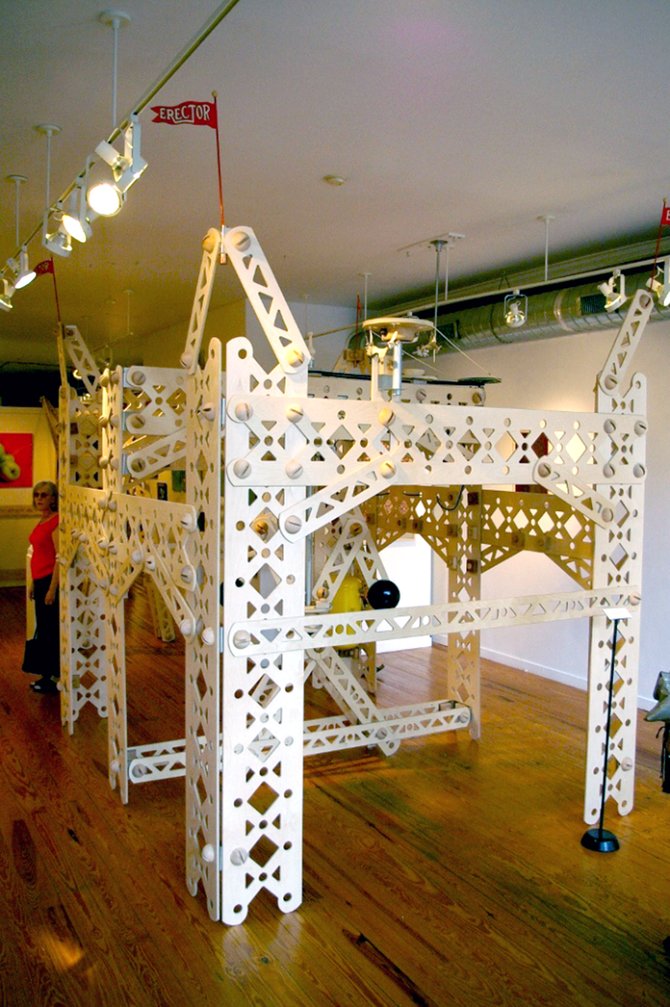 There's a question that fascinates Peter Leue: How large does a utilitarian object have to be before it's considered art?
He's been exploring the answer through a series of projects he deems "Maxiatures" -- not "miniatures," he noted with a laugh. His latest larger-than-life creation will come together, appropriately enough, at MoHu, a festival meant to spotlight the artistic offerings of the Capital District.
Stretching over a week and a half, from Friday, Oct. 5, to Sunday, Oct. 14, the festival kicked off with an interactive arts party at Albany International Airport on Thursday, Oct. 4. Guests had a chance to help Leue put the finishing touches on his massive recreation of a Hudson River train bridge.
It will be the fourth installation of Leue's Maxiatures series, coming on the heels of an exhibition at the Marion Royael Gallery in Beacon. The exhibit in Beacon was extended a month, so Leue didn't have much time to put together the MoHu piece. He broke down the Beacon exhibit and drove back to Albany with its plywood, stainless steel and homemade nuts and bolts. Then he and his brother, Bill (well known locally for his intrinsic Capital District Lego recreations), got to work in the hangar where the kickoff party will be held.
Called Crossroads of Imagination, the installation will have four towers representing the four points of the MoHu compass (Schenectady, Saratoga, Troy and Albany). There will be four truss bridges connecting the towers to the center tower, which Leue calls "kind of the pinnacle" of the piece, standing 25 feet high.
"I figured, in a hangar, I might as well go huge," he said.
Leue and his brother didn't complete the whole piece. They left one bridge undone, and in the spirit of MoHu's aim of bringing the region's art scene together, Leue will invite people at the kickoff party to help assemble the bridge.
(Continued on Next Page)
Prev Next
Vote on this Story by clicking on the Icon
More like this story