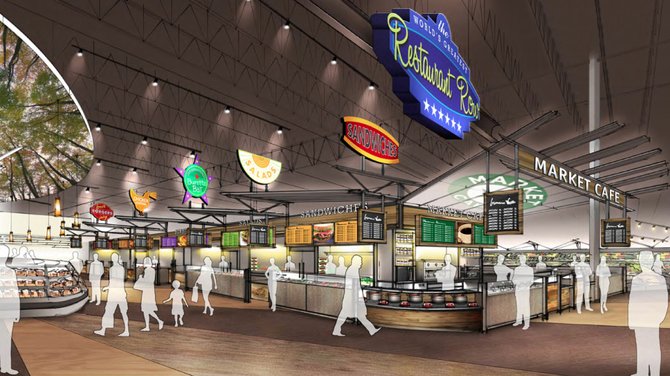 LATHAM — You could say the local grocery store battle just escalated.
On Friday, Oct. 5, Price Chopper Supermarkets announced its plan to build a new concept store on the Latham Super Center on Route 9 that will feature fresh, made-to-order food services along with major renovations.
"Every three to five years, we tweak our store designs … every seven to 10 years, we design something new," Price Chopper's Executive Chairman of the Board Neil Golub said. "It's time for Price Chopper to develop a new look and new deal."
The expansion will add 10,000 square feet to the store's 80,000-square-foot layout. Planning has been underway for close to three years, and the space next to Price Chopper and Hobby Lobby became the perfect spot to build.
"The space came available and that's the moment the pieces fit in together and I said, 'We're going to do it here,'" Golub said.
Golub placed emphasis on the biggest change to the existing supermarket: 16 moderately priced fast-casual/cooked fresh-to-order dining experiences.
New dining sections include Ben & Bill's NYC-Style deli, a Mexican-themed restaurant, classic pizzeria, an old-fashioned sub shop and a meat rotisserie. A full-service salad bar and many vegetarian-friendly options will be available. Golub said shoppers could get any of the prepared-to-order food in about five to seven minutes.
The facility will have indoor seating for 150 people as well as an outdoor seating area for about 50 people. Golub added the new space would grow and harvest fresh produce items from in the store.
"In our industry, there are those that lead and those that follow. And over time, the followers tend to catch up. So we have to step up again and take a giant step forward," Golub said. "Our goal here is to create a store for which all stores will be judged."
(Continued on Next Page)
Prev Next
Vote on this Story by clicking on the Icon