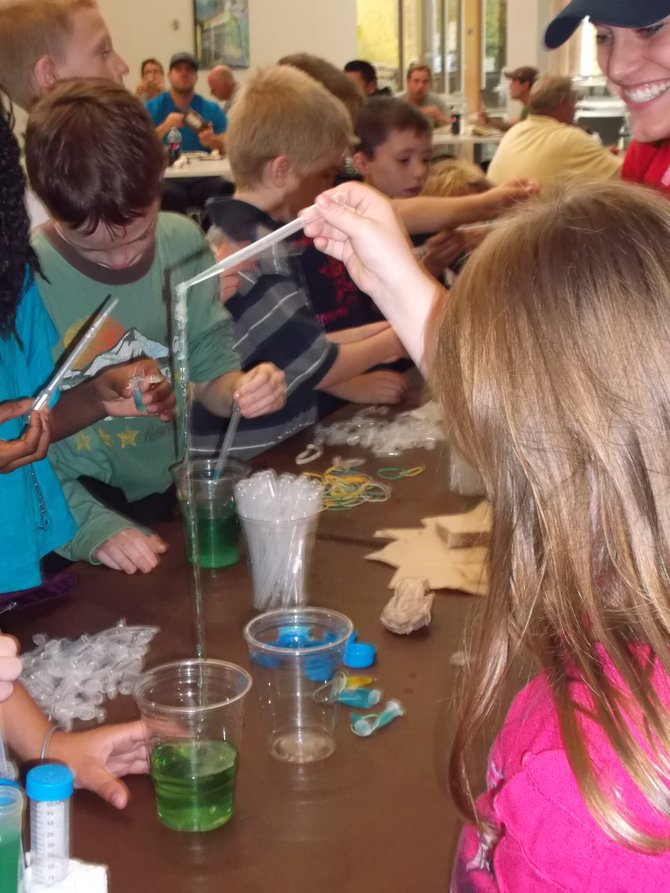 CAPITAL DISTRICT — Teachers know hands-on instruction helps engage students in a way books simply can't. Getting that involved mental activity going was part of the goal at the HVCC TEC-SMART campus in Malta on Thursday, Oct. 4, when area elementary schools brought students to an Educational and Interactive Nanotechnology day.
The event provided younger kids with the chance to see what nanoscience is all about. It is a subject usually introduced in the middle or high school.
"As a region, we're trying to educate everyone about these types of industries in the clean technologies and what's happening here with our course development. We're trying to get people interested at a younger level," said Stuart Williams, a spokesman for the Ballston Spa Central School District.
It was clear the young learners were interested, as they rushed to stations involving "magic sand" that stay dry in water, ultraviolet beads, clean room gowns and polymer worms. Hands were raised for questions, and exclamations of "wow" and "cool" were constant.
The endeavor was a joint effort between Hudson Valley Community College, NEATEC (Northeast Advanced Technological Education Center), the College of Nanoscale Science and Engineering at the University at Albany and NYSERDA and Rennselaer Polytechnic Institute.
"It's all about partnerships," said Williams. "It's the business industry and working with the colleges, that's why we're collaborating together."
At the Ballston Spa Central School District, about 75 students attend special classes in nanoscience.
Hundreds of students in grades three through five from a dozen school districts and teachers from more than 20 districts spanning Albany City Schools to New Lebanon attended the event. Even with the high participation, there were more than 600 students left on a waiting list.
Teachers accompanying students were given information on how to integrate the day's activities into lesson plans in the classroom. A table on professional development was available to the teachers, as was information about kits with materials from the various demonstrations of the day for them to use for lessons at no cost. Teachers can check out the kits via a library-type system provided by NEATEC.
(Continued on Next Page)
Prev Next
Vote on this Story by clicking on the Icon