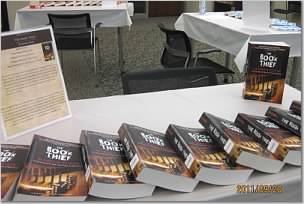 CLIFTON PARK — There's nothing like losing yourself in a good book, but choosing one can sometimes be a dilemma. At the Clifton Park-Halfmoon Library, that task is being handed off to not one, but two entire towns.
For the second year, the library is hosting Two Towns – One Book, an initiative started by the Friends of the Library.
"We're trying to bring Clifton Park and Halfmoon together," said Linda Conklin, chairwoman of the program. "I think that having one book that people are reading helps build community and the chance to have conversations that they might not otherwise have."
The book to be read will be put to a community vote after the Friends of the Library introduce the five contenders on Tuesday, Oct. 16, at a kick-off event from 5 to 7 p.m. The kickoff includes a scavenger hunt for adults and activities for kids. Voting will continue until Nov. 24, with the winner being announced in early December. Communal reading begins in February.
The idea for the two-town read has been in the works for a few years, and last year's inaugural attempt was met with success. Conklin said she'd seen Schenectady and Saratoga Springs had similar events, and being right in the middle of those cities got her going on the concept.
The process for selecting the contenders started with nominations from the community, which numbered in the hundreds.
"We have many discussions and narrow it down. It has to be sensitive to the public and relevant," said Mary Carrier, member of the Friends of the Library and chairwoman of the upcoming kickoff event.
Last year, about 100 people attended the kickoff event that eventually yielded the vote for "The Book Thief" by Markus Zusak. Carrier said the novel was a good choice because it was appealing to all demographics.
(Continued on Next Page)
Prev Next
Vote on this Story by clicking on the Icon