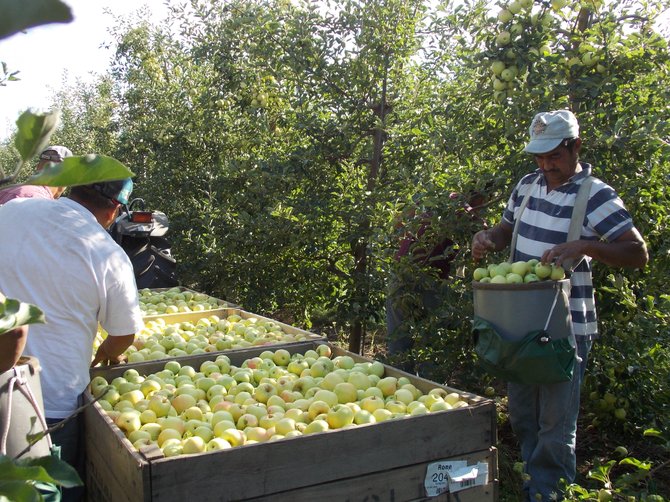 CAPITAL DISTRICT — Although a late frost in the spring has damaged a large portion of the area's apple crops, local growers are still urging families to keep their annual tradition of visiting an apple farm this fall.
According to the U.S. Department of Agriculture, apple production is down by 54 percent this year due to an unseasonably warm March, which caused early blooming. A frost that hit several weeks later, along with hail, then killed off a good portion of the state's apple production.
Molly Golden, director of marketing for the New York State Apple Association, said the Hudson Valley was one of the hardest hit regions due to elevation. The decrease in product means many farms do not have a large enough crop to allow customers to pick their own apples.
"Orchards do have apples, but some hit harder than others," said Golden. "We suggest calling ahead before visiting your favorite farm to see (what their situation) is."
This year's state apple crop has produced 14 million bushels of apples, down from the five-year average of 30.7 million bushels. Countrywide, production is off 15 percent from the five-year average. Although the spring's unusual weather does mean crops are available several weeks earlier than usual, the loss will mean higher prices at the grocery store for items like apple juice and apple sauce.
"This year puts a spotlight on the kinds of pressures that our growers have to deal with year in, year out," said NYAA President Jim Allen in a statement. "They deserve our respect and support, don't you think?"
Jim Abbruzzese, owner of Altamont Orchards on Dunnsville Road, said the farm will not have pick-your-own apples available, but they will have apples to purchase and all of the usual family-friendly activities will be offered.
"We do have apples out in the field, but they're not in reach of the public and it's too dangerous to have them on ladders," he said, estimating a loss of 90 percent of his crop this year. "But we still have all the fun stuff."
(Continued on Next Page)
Prev Next
Vote on this Story by clicking on the Icon