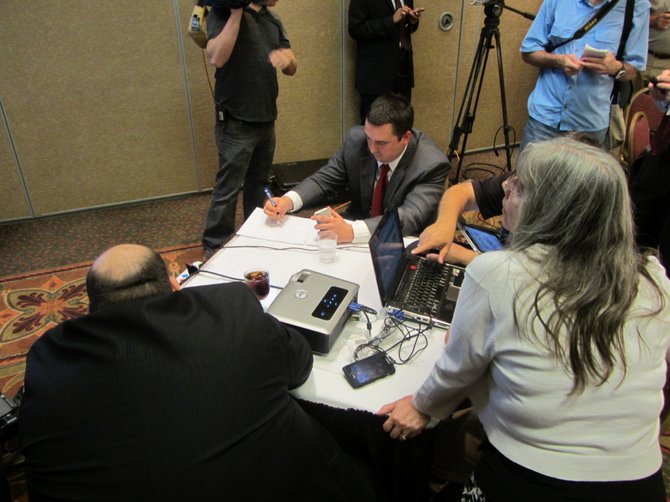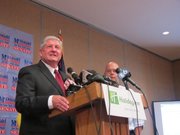 CAPITAL DISTRICT — After a nail-biting evening, Republicans in the 43rd Senate District still don't know who their next standard bearer is.
At the Holiday Inn on Broadway in Saratoga Springs on primary night, all eyes were glued to a screen as results from the primary race rolled in. The supporters of incumbent Roy McDonald gathered there likened it to watching a horse race, and by night's end the only thing clear was the contest with Saratoga County Clerk Kathleen Marchione would be a photo finish.
The unofficial result of the Thursday, Sept. 13, primary put the two candidates only 138 votes apart — Marchione with 6,817 and McDonald with 6,679. The margin is well within the more than 1,000 absentee ballots distributed before the election.
"Now we have a nail biter, it's kind of exciting. We'll have absentee ballots that have to come in and I think we should turn around and reflect a little bit that this is a great country and that's what this is all about is democracy," McDonald said as numbers were still rolling in on election night.
The newly drawn district is home to four different counties that will all count their absentee ballots on different schedules. In Saratoga County, where as of Tuesday, Sept. 18, 404 ballots had been received, ballots postmarked before election day will be accepted until Thursday, Sept. 20, after which they will be opened and tallied.
In Columbia County, 100 ballots had been received as of Tuesday. In Rensselaer County 321 were returned and in Washington County 20 had been sent back.
It is clear Marchione bested Edward Gilbert for the Conservative line, however. McDonald will also appear on the Independence line in November's general election.
On election night, McDonald thanked his supporters and put a positive spin on the coming waiting game.
(Continued on Next Page)
Prev Next
Vote on this Story by clicking on the Icon