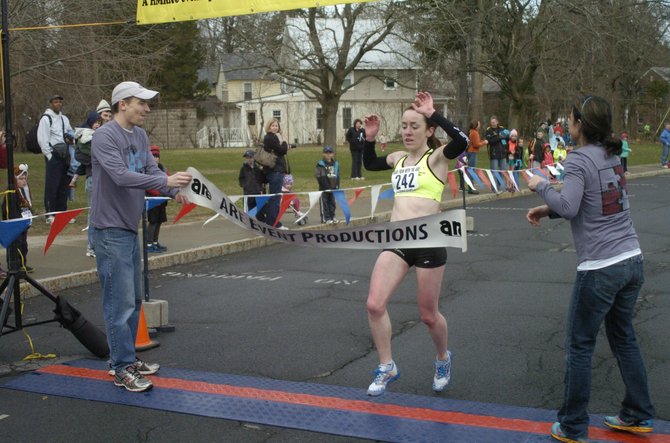 DELMAR — The 25th Delmar Dash provided a first for the 5-mile race.
Saratoga Springs resident Megan Hogan set the record for the fastest women's division time when she crossed the finish line in 27:38.
"That's pretty awesome," said Hogan. "I just wanted to give it a hard effort, and I did."
Photo Gallery
Delmar Dash 2013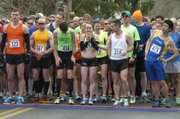 Highlights from the 2013 Delmar Dash on April 14.
Hogan's time also placed her fifth out of the 559 overall runners who crossed the finish line. She was within 20 seconds of the third-place runner, Aaron Lozier of Guilderland.
All of this happened despite running into a strong headwind over the last mile of the race.
"It was really windy out there which I thought affected the race, even though it was a flat course," said Hogan.
It was an impressive performance for Hogan, who hadn't run competitively since she suffered an injury in March 2012.
"I've been working as an interior designer in Saratoga since last July," said Hogan, who turned in a fifth-place performance at the 2011 Freihofer's Run for Women in Albany. "I just wanted to have fun running again, which I think is the point."
On the men's side, Albany native Alex Paley continued his winning ways by claiming the overall title with a time of 25:22.
Paley, who placed second to Eric MacKnight last year, said a good off-season helped him prepare for the spring road races.
"I had a better winter training, and that's why I ran faster this year," said Paley, who also won last month's Runnin' of the Green 4-mile race in Green Island. "Plus, last year's winner had to go to his girlfriend's sister's birthday in Connecticut. If we had run, I'm sure it would have been a close race."
Paley didn't have anyone near him when he crossed the finish line at Bethlehem Central Middle School. The next fastest runner was Latham's Nick Webster, who finished with a time of 26:52.
(Continued on Next Page)
Prev Next
Vote on this Story by clicking on the Icon