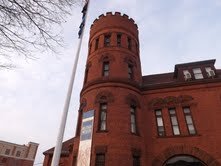 Saratoga Springs — One gets in an historic state of mind before even entering the New York State Military Museum in Saratoga Springs. Its castle-like armory architecture exudes the past.
Once inside the building, visitors are surrounded by sights and sounds of wars both past and present. You can almost hear the voices echoing from the past, all striving to tell their stories and convey their messages and lessons to those willing to listen.
Those willing to lend an ear to those voices later this year will find the story of this country's deadliest conflict: the Civil War. It is a fitting exhibit for the museum, which actually grew from Civil War artifacts that were donated by Civil War soldiers.
"This museum was actually organized during the Civil War in 1863," said Courtney Burns, chief curator at the museum.
Michael Akey, the museum's director, explained further. He said the Bureau of Military Statistics was formed to collect data about New York soldiers that were serving in the war.
"It quickly grew to where soldiers were turning things in," he said, including flags brought back from the battlefield and turned over to the bureau. "That formed the nucleus of our collection."
That history will be front and center for a new Civil War Exhibit that is slated to open in April to coincide with the sesquicentennial of the Civil War. The exhibit, "Empire for Union: New York in the Civil War," is a broad overview of New York's role in the Civil War.
"It will primarily focus on the military role," Burns said. In particular, the Battle of Gettysburg will be highlighted. More than 100 units from New York served in that historic battle.
Burns said that because the Civil War is a broad subject and New York contributed so much, the exhibit will be broken up into manageable chunks and hit the highlights of New York's involvement in the Civil War.
(Continued on Next Page)
Prev Next
Vote on this Story by clicking on the Icon