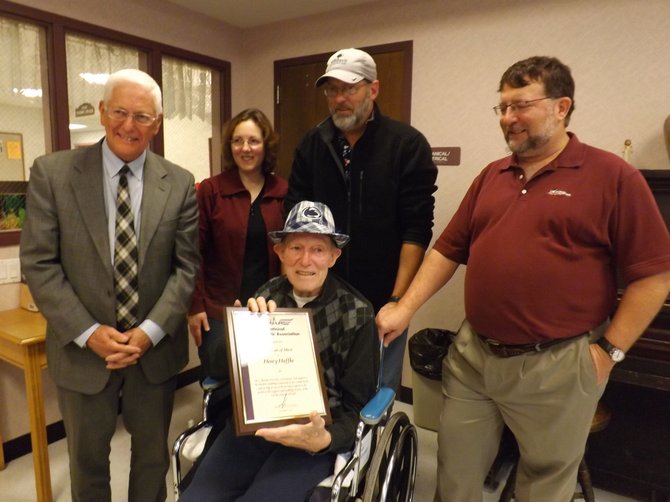 Saratoga Springs — While they may have dimmed over the years, looking into the eyes of Henry Haffke still reveals the youthful sparkle of a man who once raced with the wind.
Haffke lived a life of adventure few can begin to imagine. A lover of all things aeronautical from an early age, he got his pilot's license at just 15 and from then on, he never looked back.
The longtime Malta resident was honored on Wednesday, Jan. 30, with a Certificate of Merit from the National Aeronautic Association for his years of designing, researching and writing about model aircraft, in particular the Gee Bee, of which he is considered the world's foremost authority.
Malta Supervisor Paul Sausville presented the award to Haffke at Wesley Health Care Center in Saratoga Springs.
"What a magnificent and full life you have lived," said Sausville as he presented the award.
Haffke fell in love with aviation while living in Chicopee Falls in Massachusetts, less than a mile from the Springfield Airport. His father would take him and a brother there on summer evenings to watch the planes fly.
"This was cheap entertainment when we couldn't afford the 10 cents it cost to see a movie," Haffke said.
That cheap entertainment turned into a lifetime obsession. Haffke started building model airplanes when he was 6 or 7 years old.
"They weren't very pretty and didn't fly at all," he said with a chuckle.
But he soon got skilled at building them and the store he bought his models from offered him free models to build for display in the store window.
He joined the Navy near the end of World War II and helped with training in the ordinance school. It was during this time he became interested in flying engine-powered Free Flight and Control Line scale models.
(Continued on Next Page)
Prev Next
Vote on this Story by clicking on the Icon