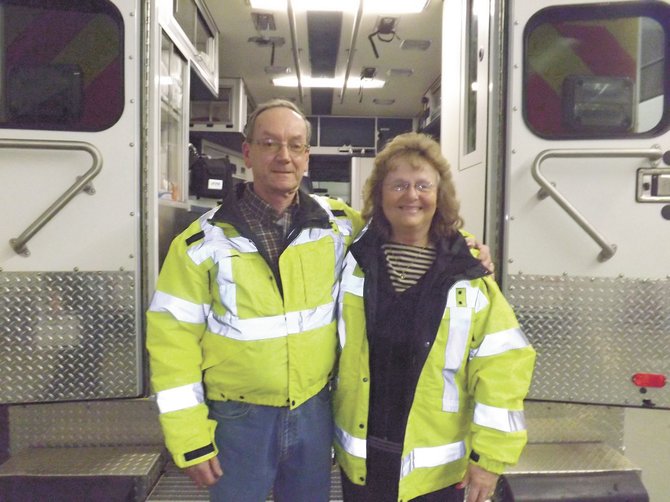 Ballston Lake — The first thing one notices about Herb and Joyce Jackson is their love and affection for each other. They look laughingly into each other's eyes. Joyce reaches out to touch her husband's knee and Herb pulls her in for a tight hug.
But when they start talking, what stands out is their absolute humility. Between the two of them, the Jacksons have accumulated 108 years of volunteer service on the Ballston Lake Fire Department and Ballston Lake Ambulance Corp.
"It's just something we do," they both said almost simultaneously.
"It brings us closer," said Herb. "It has always been a part of our life."
The Jacksons are in their 70s but are still full of energy. They have to be, given their credentials. Herb has been an active firefighter in the Ballston Lake Fire Department for over 50 years. He has also put in more than 26 years in the Ballston Lake Ambulance Corp. Joyce has been in the ambulance corp for 32 years herself.
During that time, Joyce has held the following positions: past president, vice president, secretary and she is currently the treasurer and a board member. She has been in charge of crew scheduling and has received the "Responding to over 100 calls a year" pin several times and the President's Award a few times.
Working for the fire department, Herb has held the following positions: lieutenant, captain and assistant chief. He was president for 13 years and received numerous awards for Most Alarms and Most Drills over the years. He also received the 50 years of Active Service award, Firefighter of the Year award twice over and the Honor, Integrity and Service award. He is currently the longest active member of the BLFD. The Jacksons were also honored by the Ballston Town Board on Tuesday, Feb. 12, with a resolution recognizing their service.
(Continued on Next Page)
Prev Next
Vote on this Story by clicking on the Icon