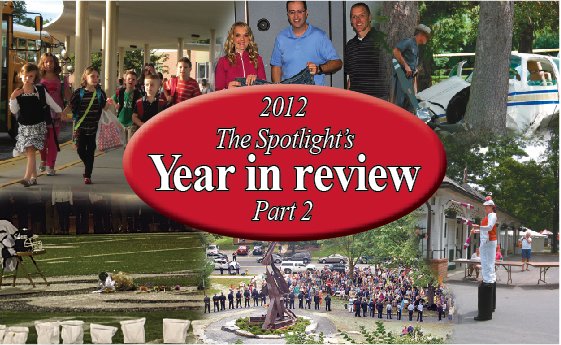 SARATOGA COUNTY — July
• State Police arrest Joey M. Paul, 28 on murder charges on July 1 after she allegedly shot her boyfriend, Matthew K. Furlani, also 28, with a rifle in their shared home at 82-1 Church Street in Schuylerville. Police charge her with murder in the second degree and send her to Saratoga County jail without bail.
• The Route 67 Country Store and Café holds its 3rd Annual Benefit Car Show. This year's event raises money for the Charlton Historical Society.
• Democrat Madelyn Thorne kicks off her campaign for state senator in the new 49th Senate District.
• The 171st Saratoga County fair kicks off on July 17. The event typically attracts between 80,000 and 100,000 visitors to Ballston Spa over the course of the week.
• A three day Phish concert at Saratoga Performing Arts Center results in more than 50 traffic citations, thirteen arrests and the seizure of a large quantity of drugs including cocaine, heroin, LSD, ecstasy, mushrooms, hash, marijuana, nitrous oxide and bath salts.
• The Saratoga Race Course hosts its 32nd open house and shortly thereafter, opens for the season on July 20.
• An early morning fire on Friday, July 20, at Bishop Hubbard Apartments at 54 Katherine Drive, Halfmoon prompts dozens of residents to flee the building as fire companies battle a fire that is believed to have started above an electrical room in an attic space.
• Two men escape injury when their floatplane capsizes while taxiing on Saratoga Lake.
• The "Tempered by Memory" 9/11 memorial settles in at High Rock Park in Saratoga Springs, ending much debate over where the statue will be located. A dedication ceremony is held later in the year.
• The Ballston Town Board holds a public hearing on a local law that would put limits on freestanding solar panel arrays. About 50 people attend the hearing with eight people voicing opinions both for and against the proposed law. The board later passes the law in a 3-2 vote with Supervisor Patti Southworth and Councilman Jeremy Knight dissenting.
(Continued on Next Page)
Prev Next
Vote on this Story by clicking on the Icon