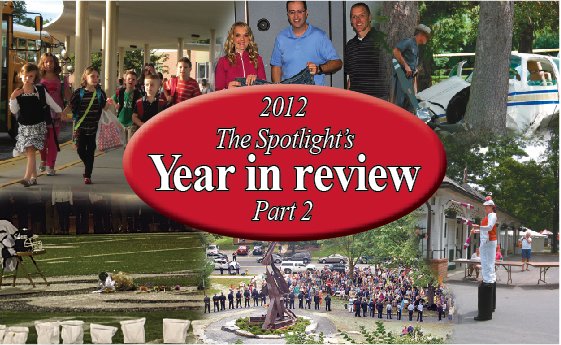 continued — • GlobalFoundries announces a 90,000-square-foot expansion of Module 1 at the Fab 8 campus in the Luther Forest Technology Campus in the Town of Malta.
August
• The Village of Ballston Spa holds the 5th Annual Ballston Spa Film Festival on Aug. 3 and 4. A total of 39 films are shown in multiple venues around the village.
• Longtime Saratoga County Republican Committee Chairman John "Jasper" Nolan announces his retirement after 27 years of heading the committee.
• Town of Ballston Councilman William Goslin calls for a review of Town Supervisor Patti Southworth's hours worked at a Town Board agenda meeting — not for being too few, but rather for being too many for the part time post. In question is Southworth's Standard Workday and Reporting Resolution for elected officials, which the board unanimously approved at a July 3 meeting. The system is intended to report to the state the "standard work days" for elected or appointed officials for the use of the state retirement system.
• Brian Vecchio, 18, of 110 Brookline Road, Ballston Spa, is sentenced to up to fours years in state prison. Vecchio was convicted of criminally negligent homicide, a felony, in connection with a January crash in the Town of Providence that claimed the life of Ballston Spa High School student Noelle S. Johnsen, 17, a passenger in his vehicle.
• New York State Police reports a single-engine plane crash in the Van Vranken Road area of Clifton Park. According to police reports, the plane was occupied by two people at the time of the crash and officials confirm that one occupant is deceased. The other occupant is said to be in critical condition.
• Ballston Supervisor Patti Southworth reports her personnel file missing and files a report with Saratoga County Sheriff, who start an investigation.
Vote on this Story by clicking on the Icon