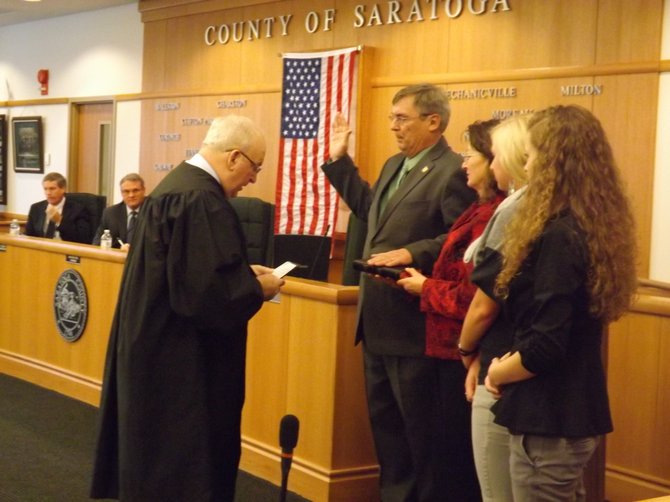 BALLSTON SPA — Charlton Supervisor Alan Grattidge was unanimously approved by his colleagues as the new chairman of the Saratoga County Board of Supervisors at a Wednesday, Jan. 2, meeting. He takes over for Saratoga Supervisor Tom Wood, who held the office for the past two years.
"If only my 9th-grade social studies teacher could see me now," said Grattidge after being sworn in.
While nominating Grattidge, Malta Supervisor Paul Sausville said the supervisor has the ability to navigate through "rocky shoals and rough waters ahead." Sausville compared the financial difficulties the county faced last year to Hurricane Sandy and a turbulent sea.
"We will need to listen for the voice of (Grattidge), who will call us to safe waters and to the home harbor of financial stability," said Sausville.
While Sausville talked about financial problems of the recent past, Grattidge looked to the future during his inauguration speech.
"There is no question that Saratoga County has faced big financial challenges for the past two years," he said. "There is no question that we're not out of the woods yet, 2013 will be another year for belt tightening, reform and efficiency. But let's not lose sight of one thing: despite our challenges, Saratoga County has so many positives that we can all be proud of."
Grattidge told the audience of more than 100 people that Saratoga County has an excellent quality of life, according to an assessment conducted by SUNY Albany.
"Saratoga County residents who are 50 years of age or older have a superior quality of life, above average health and well-being and favorable financial independence," he said.
Population growth is another sign of better days ahead, said Grattidge. He said the county's population has grown by 9 percent in the past two years.
"Saratoga County is the fastest growing county in the region," Grattidge said. "People are voting with their feet for Saratoga County's excellent quality of life."
(Continued on Next Page)
Prev Next
Vote on this Story by clicking on the Icon