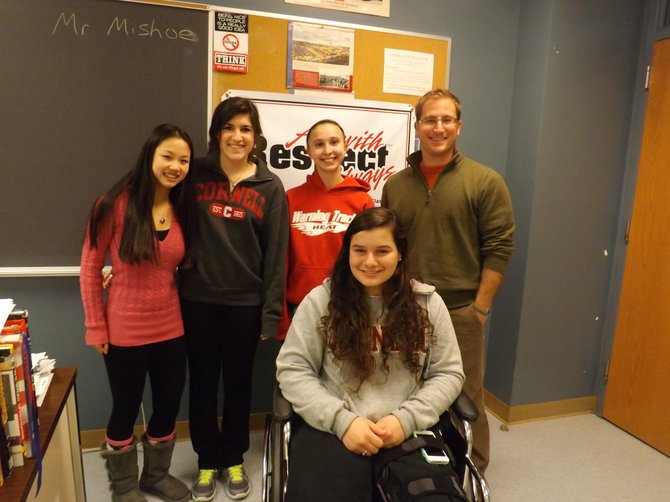 Saratoga Springs — In a time when technology makes the generation gap seem larger than ever, a group of high school students are working to leverage modern gadgets to bridge that divide.
At Saratoga Springs High School, a group of students led by Emma Hyatt and advised by Tim O'Brien have formed the Generation Outreach club, the first of its kind. The mission of the club is to connect with the Music and Memory program to bring the gift of music to Alzheimer's patients at Wesley Nursing Home in Saratoga Springs by providing them iPods loaded with familiar tunes from their younger days.
Hyatt, who started the club, said she got the idea after her mom told her about the Music and Memory program.
"I took the idea and ran with it and started the club," said Hyatt.
She went to O'Brien, who teaches social studies and is also her tennis coach, and asked him to be the advisor for the club. O'Brien said the club came up with the name, goal and formed a mission statement: to improve the quality of life for individuals suffering from dementia and Alzheimer's through the use of music.
"We started brainstorming on how to raise money and collect iPods for the program," he said. "Generation Outreach really does mean from one generation to another, making that connection."
Sarah Willner-Giwerc is also a student in the club and said she had been volunteering at Wesley since she was little.
"I saw firsthand the joy that music can bring to people suffering from Alzheimer's," she said.
Sophia Nelson, another club member, said she was in the school orchestra with Hyatt in the eighth grade and they played at Wesley.
"The patients really loved it," she said.
O'Brien said all the money and iPods collected so far will go to Wesley so the staff can be trained in the use of the technology and how to ask the patients questions as the music brings up memories in patients with dementia and Alzheimer's. So far, the club has collected 10 iPods. The goal is to gather 100 iPods to be delivered to Wesley. The club has been working with Fran Cronin, the director of activities at Wesley, to facilitate the delivery of the iPods as well as the training of the staff. Once the Music and Memory program is up and running, workers can download music onto iPods from a computer at the nursing home using the program's software.
(Continued on Next Page)
Prev Next
Vote on this Story by clicking on the Icon