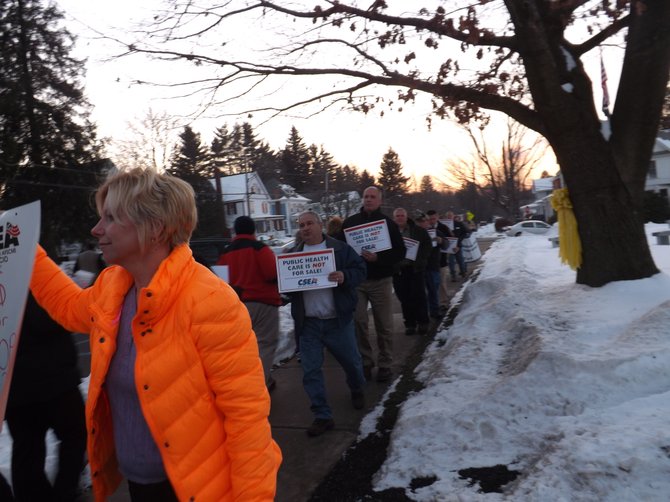 Ballston Spa — Angry citizens crowded into the Saratoga County Supervisors chamber on Wednesday, Jan. 9, to voice their objections once again over the supervisors' plan to form an LDC to privatize the Maplewood Manor nursing home.
Before the public hearing, Kathy Garrison, Capital Region president of CSEA, led a group of picketers protesting the privatization.
"We think it's wrong to not take care of people who have lived here their entire lives," she said. "Now they need services at the end of their lives, and they deserve the best quality of life possible."
Garrison said she was also concerned for the county employees who currently work at the facility.
"A lot of people look for alternate work when a facility is privatized," she said. "A lot of people would like to stay. They stay because they love the work and like to take care of the residents. But it usually comes down to a financial decision whether they can afford to work for the wages and benefits provided. They're usually slashed quite a bit."
Dorothy Tyler, who has formed Citizens Advocate for Sustainable Maplewood Manor (CASMM) was also at the protest and spoke during the public hearing.
"We (CASMM) would like the county to stop the vote to form the LDC," she said. "We have a plan that we would like to put forth that the supervisors could use to make Maplewood sustainable."
During the public hearing, the accusations and protests flew as more than 14 residents voiced their concerns.
"Shame on you supervisors," shouted Saratoga Resident Cliff Ammon. "You are so bound and determined to dispose of Maplewood. Where was the oversight for the past 10 years? Again I say shame on you."
Tyler also lambasted the supervisors for not thinking ahead.
"If you have no solid plan for how to be successful, why are you going forward?" she asked. "Why haven't you met openly and honestly with residents to slow down this process and give us your strategic plan?"
(Continued on Next Page)
Prev Next
Vote on this Story by clicking on the Icon