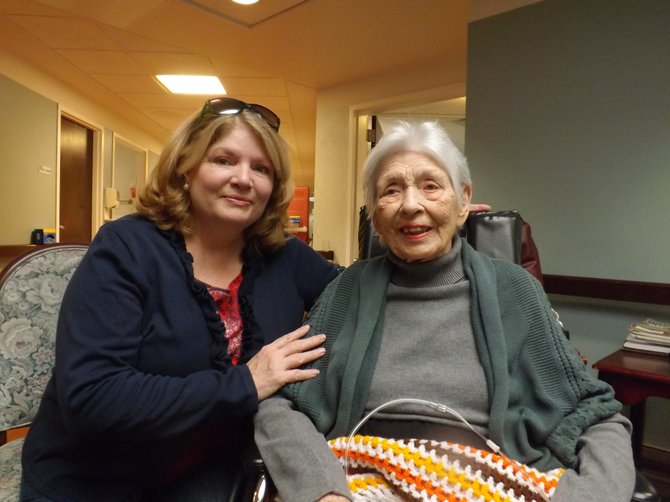 Clifton Park — Mary Egan lived a life of excitement and adventure, and that was before she started working as a librarian in the Burnt Hills-Ballston Lake School District, where she said her true adventures began.
"It was always about the kids, inspiring the kids to learn to read. I loved them all," she said.
On Friday, Jan. 11, Mary was honored by a group of women who either worked with her in the library or were members of the Burnt Hills-Ballston Lake Education Foundation. They visited her at the Schuyler Ridge Nursing Home in Clifton Park, where she now resides.
Mary and her husband had donated $3,000 to the foundation in 2000, and the endowment has been used by the foundation to support education over the year. The group was there to thank her for the donation, part of which was recently used to purchase a dozen Redi-speak recording devices to be used throughout the BH-BL school libraries. They were accompanied by Mary's daughter, Tracy Egan.
The devices can be docked on the library computers and used to record how well a child is reading, or be used in speech therapy. According to Dorie McArthur, the chairman of the BH-BL Education Foundation, there are dozens of uses for the devices.
"Kids love technology," she said. "They can pretend when they are reading or speaking that they are somebody really special."
McArthur said they can also be of direct use to teachers, who are increasingly held to higher standards of accountability.
"Teachers are being asked to keep more records," she said. "This is something that can be used for those purposes."
McArthur said that not only did the Egans make the large donation, when her husband died Mary also listed the foundation for memorial donations.
"The money is continuing to help the kids that Mary loved so much," she said.
(Continued on Next Page)
Prev Next
Vote on this Story by clicking on the Icon