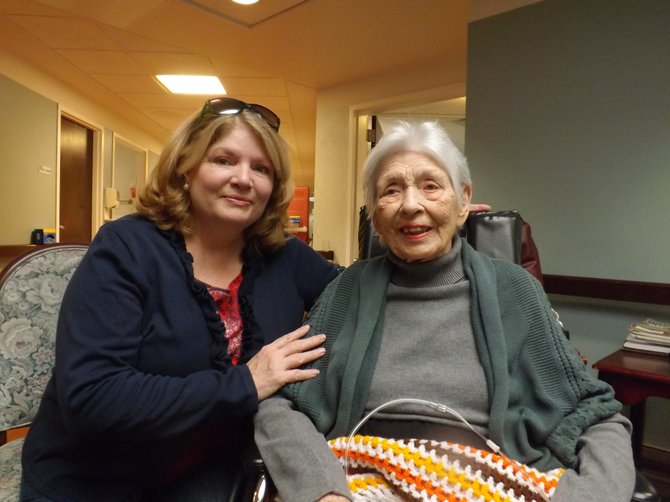 continued — Although Mary's husband Bill has passed away and Mary is long retired, their legacy will live on in the town of Ballston.
Born in 1919 in Albany, Mary Egan graduated early from the Academy of the Holy Names, enrolled at NYS Teachers College and received her degree in library science in 1940. She was always grateful for her free education and continued to support the school, now the University at Albany.
After graduation, she worked in New York City for Major Seversky, author of "Victory Through Air Power." According to Mary, Howard Hughes wanted to meet the author and met Mary instead, following her back to her home in Albany.
"I told my mother to tell him I wasn't in," she said with a laugh.
She was first employed by the BH-BL school district during WWII, and it was where she met her husband, William Egan, a Ballston Lake real estate agent. She took a few years to have her four daughters and then returned to work and to college. She received an MS in Education and an MS in Educational Administration.
Mary Egan held library posts at the Albany Public Library, Albany Medical Center and various schools in Schenectady and Shenendehowa before settling into her post at BH-BL in 1961. She was director of libraries and media services from 1961 until her retirement in 1999.
During the group's recent visit to Schuyler Ridge, stories were traded back and forth and a picture of Egan and the legacy she has left the school district started to emerge.
For instance, she has always been interested in technology and was one of the first educators to recognize the significance of a library becoming a "media center."
"I was one of the first employees to get a computer at O'Rourke Middle School," she said. "It grew from there. The librarian at the time didn't like it. She said it made noise!"
Vote on this Story by clicking on the Icon