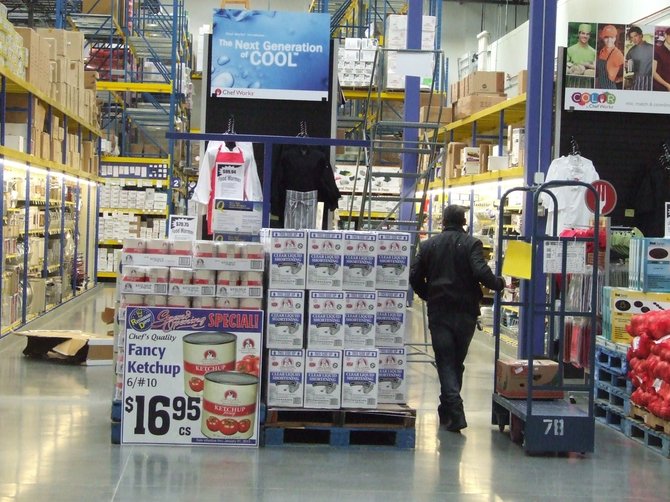 COLONIE — A new national wholesaler that caters to restaurants finally opened its doors to the food industry on Wednesday, Jan.16.
Restaurant Depot, at 22 Warehouse Row in Colonie, is a 68,000-square-foot facility that sells fresh meat, poultry, seafood, produce, dairy, beverages and supplies to restaurant owners. With 100 locations nationwide, this is the only Restaurant Depot in Upstate New York, the next closest being in Hartford, Conn. Construction on the store began over three years ago and it now sits next to I-87 and I-90.
Though the depot is not open to the general public, Branch Manager Chris Woods said it's a convenient way for restaurant owners to come in and shop without getting several deliveries throughout the week. To become a member, customers must have a tax ID for their business. Woods said Restaurant Depot also serves small groups, including nonprofit organizations and churches.
"You are able to get anything at any time without having a delivery system going one or two days a week. Now you can come in seven days a week and get whatever you need," Woods said.
Restaurant Depot gets new shipments every day and rotates about $1.5 million worth of inventory every week, he continued.
"The prices are direct," Woods said. "The market versus what we're getting because of our buying power gets us to have better pricing."
Woods said restaurant owners can come into the depot and shop at ease, feeling less like they have to fight for products with the general public at other depot-like stores.
Since the opening, Woods said the store has about 300 customers daily. So far, 2,700 member accounts have been created and only eight of the customers had previously shopped in a Restaurant Depot before, Woods said.
Ted Cervini, who owns Bubbles Restaurant in Mechanicville, said he usually gets his food delivered through vendors including US Foods and Cisco. He said he was just browsing Restaurant Depot and likely won't stop using his delivery system.
(Continued on Next Page)
Prev Next
Vote on this Story by clicking on the Icon