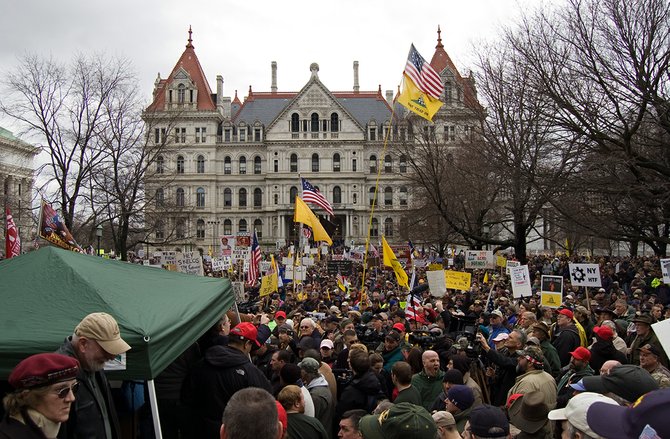 ALBANY — West Capitol Park in Albany resembled a battlefield Thursday, Feb. 28, as thousands of gun rights supporters trudged through the muddy lawn rallying against the state's new gun control law and denouncing Gov. Andrew Cuomo.
Thunderous rally cries could be heard coming from Empire State Plaza as gun rights advocates and state legislators campaigned for a repeal of the law. The cheers from around 7,000 protesters remained strong for more than two-and-a-half hours on the overcast day.
Lene Fornino, an 11-year-old from the Town of Rochester, stoked the crowd's patriotic spirit by singing "God Bless America" followed by an the impromptu chant of "U.S.A." Fornino, along with her whole family, is a lifetime member of the National Rifle Association.
Photo Gallery
NY2A Capitol Rally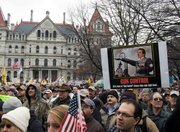 Check out some of the signs and speakers featured during the rally against the SAFE Act at the Capitol on Thursday, Feb. 28.
Protesters weren't coy with their signs. Several called Cuomo a tyrant or depicted him as Hitler, and one sign suggested state Senate GOP Leader Dean Skelos should "grow a pair." One sign read "No more NYC laws 4 Upstate," while another sign had a more personal message saying, "I'm a mom and grandmother here to defend & protect their future & rights."
The protest was the third and largest held at the capitol since lawmakers approved the Secure Ammunition and Firearms Enforcement Act, known as the SAFE Act, in January.
A litany of GOP legislators, along with some Democrats who voted against the new gun laws, spoke at Thursday's event.
Assembly Minority Leader Brian Kolb, R-Canandaigua, led the charge and said the protest was about protecting the constitutional rights of gun owners.
"It is now time to repeal this law," Kolb said.
But another popular chant throughout the events was "We will not comply." Some owners of now-banned assault-style weapons said they would refuse to register their weapons with the state, as required under the SAFE Act.
Diane Kellogg, a Columbia County resident, said she doesn't own any guns but is an NRA member. Attending the protest was important to Kellogg so she could defend everyone's Second Amendment rights, she said.
(Continued on Next Page)
Prev Next
Vote on this Story by clicking on the Icon