CAPITAL DISTRICT — When business leader and author Karen Hough left the stage to pursue a career as an executive in information technology, she was sure of one thing—she didn't know what she was getting herself into.
Hough admits: "I had no background or education that prepared me for it. But every single day the behaviors I had learned as an improviser on stage allowed me to think on my feet, ask the right questions and engage people. So I did really well, and I loved it."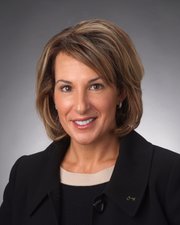 Today, Hough is founder and CEO of ImprovEdge and bestselling author of The Improvisation Edge: Secrets to Building Trust and Radical Collaboration at Work. She is also the keynote speaker for the 2013 Key4Women Forum, "Negotiation and Leadership: For Women in Business and Life."
Here Hough talks about her path from improvisational acting to leading a successful business consulting firm, as well as what actionable ideas attendees of this year's Key4Women forum will walk away with.
Lisa Clifford: You went from acting to a career in IT. Then you founded a consulting firm. Can you tell me a little bit about that process?
Karen Hough: I kept thinking about how my improv experience was helping me in business, so I began talking with my eventual cofounders about really exploring this idea. One of them happened to be getting her MBA at Wharton. Wharton thought it was a neat idea for us to do a research project on the idea that behaviors from the improv stage can make you a more effective executive. We were able to use the MBA students as test subjects in our first workshops and applied psychology and organization development concepts to the work. And we did a lot of research. So ImprovEdge was really more of a hobby and research project for us. We were all working full time, but we were fascinated with the idea and wanted to prove that the approach was real and scientifically based.
(Continued on Next Page)
Prev Next
Vote on this Story by clicking on the Icon