ROTTERDAM — When thinking of a cancer support group, many would picture a group sitting in a circle, taking turns telling their stories. The purpose of any support group is for people who are in the same situation to get together and share their coping strategies in an effort to not feel alone.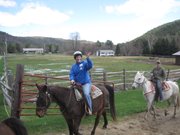 One cancer support group is taking it a step further and changing lives in the process.
In 2004, Maple Ski Ridge co-manager Karen Doyle's life took an unexpected turn. At the age of 39, she was diagnosed with breast cancer. Right away, she began looking for groups that could help her get through this challenging and stressful time in her life.
"I was looking for different outlets. I had tried groups at the hospitals and things like that and found them to be very depressing, and just walked away from those getting absolutely nothing and feeling worse than when I walked in," Doyle said.
One day, Doyle was browsing the Susan G. Komen website and happened to see a link for Camp Braveheart, an oncology camp for women.
"It mentioned horseback riding and whitewater rafting," she said. "Not just, sit down with me and cry."
On the last day of Doyle's radiation treatment, she got on the bus and headed to Camp Braveheart.
"It was scary, you don't know anyone, you are going through this tremendous part of your life, and you get on a bus with a bunch of women," Doyle said.
But she said it was the best thing she has ever done.
Camp Braveheart offers women fighting cancer a variety of different weekend retreats, such as rafting down a river, relaxing on a beach or tackling high ropes. Doyle's first experience was on one of the less physically challenging retreats.
"I felt like I wasn't alone. For the first time, I felt like I could talk to people. It wasn't with pity that they were looking at me. They were truly understanding, encouraging and supportive," Doyle said. "You could talk to them about anything … how medication worked to hair loss, makeup, lack of sex life or too much of a sex life, or how family reacts to you differently. They understood that."
(Continued on Next Page)
Prev Next
Vote on this Story by clicking on the Icon