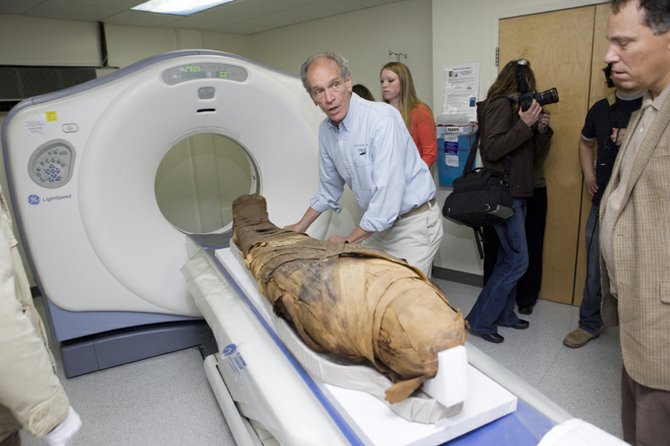 ALBANY — Mary Valentis pictured movie magic when a new partnership between the Albany Medical Center and the Albany Institute of Art and History was announced in the spring of 2012.
The two entities were planning on working together to once again perform a series of medical examinations on the Institute's two mummies that were obtained in 1909 by trustee Samuel Brown. Similar tests had been performed by Albany Med in 1988, but due to advancements in technology and the suspicions of several Egyptologists, the decision was made to perform a new round of scans.
Valentis, an Albany Institute board member and a University at Albany English professor, thought documenting the venture would not only be educational, but a fun experiment. She soon enlisted the help of friend and colleague William Rainbolt, a former UAlbany professor of journalism and English.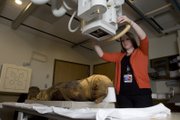 Neither Valentis nor Rainbolt had made a film before. They began by doing extensive research on the mummies. Next, the pair reached out to the Institute and the Albany Foundation about making a documentary, and found friends who work as professional crewmembers in Hollywood to help with production.
"We sort of pulled together this group of people," said Valentis. "We didn't know what we were doing, but Bill and I wrote the script and eventually pulled the film together."
Old assumptions put to the test
Brown purchased the mummies from officials at the Cairo Museum during a trip to Egypt more than a century ago. Curators had told Brown one of the mummies – the oldest one is now about 3,000 years old – was female. The other, which was unwrapped so Brown could verify that they really were mummies, was said to be male and born in the Ptolemaic era around 300 B.C.
Brown had the mummies sent back to Albany by steamboat, where they've stayed for more than 100 years.
(Continued on Next Page)
Prev Next
Vote on this Story by clicking on the Icon