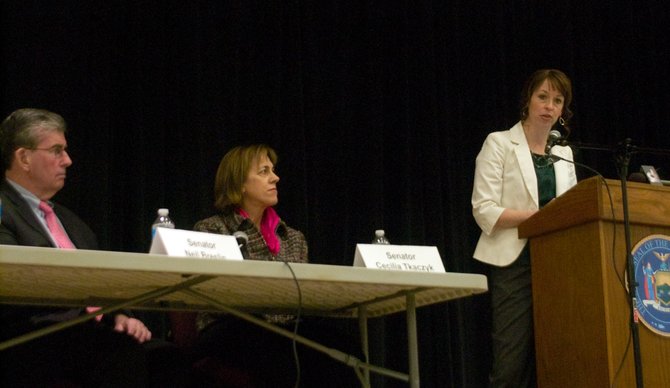 GUILDERLAND — Parents and educators shared a common concern at a recent forum: special education cannot work properly under the Common Core's blanket standards.
Senators Cecilia Tkaczyk and Neil Breslin and Assembly members John McDonald and Phil Steck listened to comments from several speakers Tuesday, Feb. 11, discussing how implementation of the Common Core curriculum has exacerbated challenges for students with special needs. The forum was held at Farnsworth Middle School in Guilderland, and a few dozen people attended and listened to comments stretching from the classroom to home.
Bianca Tanis, a special education teacher and parent of two children with autism, kicked off the evening and set the tone for the forum.
"I find these reforms to be one of the worst things that could have happened to students with disabilities," Tanis, of New Paltz, said. "With the advent of the Common Core, pretty much overnight … the achievement gap widened incredibly."
Tanis said many students with disabilities are "confused" and "frustrated," and the new standards are not helpful for students with special needs.
"(The Common Core) really promotes a kind of teaching that is not best practice for students with disabilities," Tanis said. "For many of these kids, it is like you are building the third floor without the second and the first floors. For students with disabilities, they are so sensitive to having the appropriate scaffolding and prerequisite skills."
Breslin asked Tanis if students with special needs "should just be taken out of the Common Core equation," with her responding that the standards have to change. Breslin said the age-based standards don't seem to fit special education students.
"The only thing that's different about kids with special needs is we need to think outside the box, and we need to be better teachers," Tanis said. "We say we celebrate diversity and all different learning needs, but here we are holding everybody up to these same homogonous standards."
(Continued on Next Page)
Prev Next
Vote on this Story by clicking on the Icon