Afrim Nezaj
Owner of Afrim's Sports
• Hometown: Brooklyn
• Current home: Altamont
What are you listening to these days?
Classic rock. I'm not one that likes to download things. I can just hit the preset on the radio in the car. I'm a Led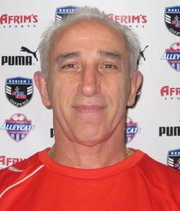 Zeppelin and The Who kind of guy.
What have you been watching on TV?
I watch Jon Stewart and Stephen Colbert. Those are my two favorite shows. I come home and watch them when I go to bed. I don't watch the news much anymore, but if I need to know something it's usually on one of those shows. There's an occasional soccer game.
What's the last movie you went to?
"Chef." My wife and I go out every Thursday night. We usually do dinner and a movie. The Spectrum usually has movies other people don't seem to carry.
What would your dream vacation be?
Rio de Janeiro is absolutely beautiful with the Cup. I'd probably like to do that. My kids and my wife took an RV and traveled across the country, I'd do that again in a heartbeat. Maybe just the wife and I next time.
What would your last meal be?
I love rainbow trout. Whenever I go out, I try to get it. If I can get it, I order it with some rice
Who would you most like to meet, living or dead?
I'm not religious, but I would love to have met Jesus. I don't think anyone really knew the real Jesus. I would like ask him, "Who are you, and where are you from?"
What are some of your hobbies?
I love riding my bike. I have three of them. I have a bad knee so I can't play sports competitively anymore, but I can ride a bike. I do some of my best thinking on my bike.
What is something about you that would surprise people to learn?
I was in College at SUNY Albany in the '80s when the Olympics were here, and it was intense. There are days I go to work, like today, and there's a little girl wearing sunglasses and heading into soccer tots, she was walking and singing and having the time of her life. That just makes me happy, kids having fun. Those are the things I live for.
Vote on this Story by clicking on the Icon