Guilderland and Colonie Central high schools are part of a pilot sports program that, if successful, will allow athletes with and without developmental difficulties across New York to compete on the same team.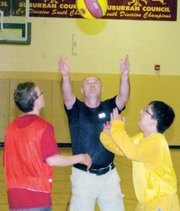 Twelve Section II schools are participating in Unified Sports, a program jointly run by the New York State Public High School Athletic Association and Special Olympics. Each school – Colonie, Guilderland, Columbia, Shenendehowa, Mohonasen, Averill Park, Ballston Spa, Saratoga Springs, Glens Falls, Mechanicville, Queensbury and Schenectady – is fielding a basketball team for the inaugural season, which lasts from May 5 through May 31.
"I think it's a great idea," said Cheryl Nunamacher, a special education teacher at Colonie. "The kids are very excited about it. They don't have many opportunities outside of the school day like this."
"We were really, really excited to be part of this," added Colette Gallagher, special education teacher and co-coach of the Unified Sports basketball team at Guilderland. "It's an awesome opportunity, and it's also something we want to see succeed."
The Unified Sports basketball games are played under normal rules for the sport, including a three-point shot. At least three athletes with developmental difficulties must be on the court at all times, with a maximum of two partners – athletes without developmental difficulties – to assist.
"The idea is a lot of these athletes are able to compete at a level where if you're in the audience, you won't be able to tell the difference," said Gallagher. "We're trying to blur the lines."
Timothy Fitzsimmons is a prime example of what Gallagher is hoping the Unified Sports program will do. The 18-year-old Colonie Central High School student suffered a traumatic brain injury in 2007 that has affected his memory and took away the use of his left arm, but he can shoot outside jump shots well with his right hand.
(Continued on Next Page)
Prev Next
Vote on this Story by clicking on the Icon