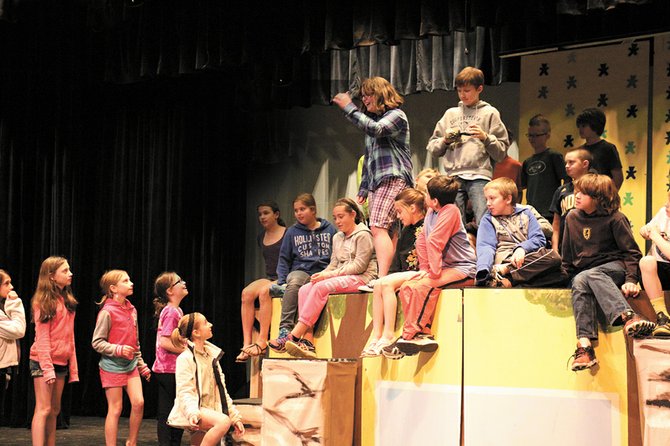 VOORHEESVILLE — Peter Pan may not want to go to school, but the fifth-graders at Voorheesville Elementary School are eager to get there each day to practice their lines for their upcoming show, "Peter Pan Jr."
IF YOU GO
• What: "Peter Pan Jr."
• When: May 9 and 10 at 7:15 p.m. and May 11 at 2 p.m.
• Where: Voorheesville Middle School
• How much: $3-$7
• Info: 765-2382
Rehearsals are wrapping up for Friday night's show at the Lydia C. Tobler Performing Arts Center. Although the students have been rehearsing since January, it wasn't until just about two weeks ago that they had the chance to experience the bright lights and large professional stage of the performing arts center.
Lisa Farrell, co-advisor for the production, said despite the fact that the students just recently began rehearsing on the large stage, the cast and crew of 72 fifth-graders are doing very well adjusting to their new surroundings.
Nate Plummer, who plays Captain Hook, said the stage certainly beats the small conference room that the students had been practicing in for the last four months.
"I think it's really cool ... that feeling of being on stage," he said.
Until about three years ago, the elementary school's drama club productions were held in the school gym.
"The lighting and sound was bad … it was dark and hot," Farrell said, adding that the stage at the performing arts center enables the crew to make the sets bigger, gives the dancers more room to spread out for dance numbers and makes the students feel more professional.
"They get to wear body microphones," she said. "We are blessed to have such a beautiful facility with professional lighting."
The professional 790-seat theater doesn't seem to intimidate the fifth-graders much.
Krista Rivers, who plays Tinkerbell, said she may be a little nervous at first, but she is sure her nerves will wear off quickly when she begins to tell the story of Peter Pan. Rivers' role enables her to interact with the audience more than any other character in the play.
(Continued on Next Page)
Prev Next
Vote on this Story by clicking on the Icon