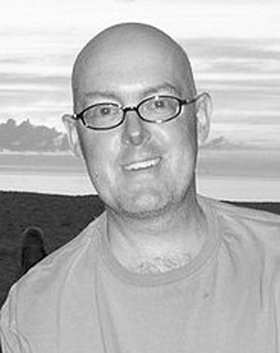 Thomas Roberts
unknown - unknown
Thomas Michael Roberts, 44, died peacefully at his home in Takoma Park, Md., the morning of July 23, 2012. Tom often joked, "Under-promise and over-deliver." Living 13 years after his brain tumor diagnosis, he did just that.


Tom was born in Albany to Donald and Emily Roberts and raised in Delmar. He attended Bethlehem Central Schools, where he wrestled, played baseball and read an enormous number of books. During his college years, he developed a deep commitment to human rights. Most notably he participated in the National Campaign to Abolish the Death Penalty's "Pilgrimage for Life" march from Florida to Atlanta, walking with Sister Helen Prejean.
 
Tom expressed his love of, and dedication to, the arts through his work at the Old Songs Festival in Altamont, the Hudson Valley Writer's Guild and the Albany League of Arts.
 

After moving to Washington, D.C., in 1990, Tom worked with the National Assembly of Local Arts and played shortstop for the National Endowment of the Arts softball team. Tom was hired by the National Academy of Engineering in 1997 and later moved within the National Academy of Sciences to the Office of News and Public Information.
 

Tom and Patti Mallin married August 17, 1997.
While training for the AIDS Marathon in 1999, Tom had a grand mal seizure. After his brain tumor diagnosis and an initial recovery phase, Tom and Patti's daughter, Camden, was born in February of 2001. 

Although Tom was able to continue working and volunteering for several years after his diagnosis, the deficits in mobility and speech eventually led him to retire early. He continued as a stay-at-home dad, attending every school and extra-curricular event possible. 

In 2008, Tom and Takoma Park artist Amy Kincaid co-curated an art exhibit called "Cranial Vault: One Man's Journey from a Middle-of-the-Night Grand Mal Seizure through Cancer Treatment and Brain Surgery to a Survivor's New Normal." The exhibit brought together work by more than a dozen local artists.

Integral to Tom's care were Dr. Stuart Grossman and Dr. Jaishri Blakeley of the Johns Hopkins Brain Cancer program, whose medical and emotional support sustained Tom and his family for 13 years.
Tom and his family remained deeply indebted to their near and far-reaching community of friends and family -- nicknamed "The It Takes a Village People" — who were always on hand to visit and help out in every way imaginable.
Tom is survived by his wife, Patti Mallin, and daughter, Camden Roberts, of Takoma Park, Md.; parents Donald and Emily (Otwell) Roberts, of Delmar; and brothers Daniel (Kristen) Roberts, of Guilderland, and Patrick (Megan) Roberts, of Brooklyn.

A memorial service will be held in Takoma Park in September. Contributions in his memory may be made to The Blakeley Neuro-Oncology Research Fund, c/o Martina Grunwald, Neurology and Brain Sciences Fund for Johns Hopkins Medicine, 100 North Charles Street, Suite 401, Baltimore, MD 21201.