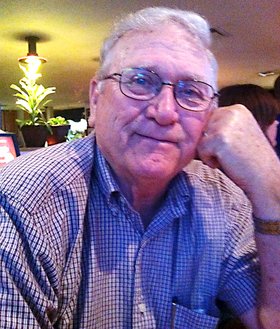 James J. Vogel
unknown - June 15, 2014
Vogel, James J., 74, of Winter Springs, Fla., and formerly of Delmar, died peacefully at home on June 15, 2014 surrounded by his loving family. He was born in Albany on January 18, 1940, the son of the late Edward H. Vogel and Margaret A. Porter Vogel.
Jim attended Vincentian Institute and Albany High School. He enlisted in the U.S. Marine Corp from 1958 to 1964, attaining the rank of Cpl. E-4. Following his military service he became a self-employed painting contractor and, in 1977, opened Vogel Wallcoverings, Inc. in Delmar. In 1987, Jim relocated to Florida where he worked as a waste water operator and then spent his retirement providing transportation services and assistance to those in need.
Throughout his life, Jim was an avid golfer, starting out as a caddy in his younger years, and enjoyed playing most at Albany Municipal Golf Course and Normanside Country Club where, in 1983, he shot two holes in one exactly one month apart. He loved bowling, playing cards, and Friday nights at Brockley's Delmar Tavern shooting darts. Doing his daily crossword puzzle with his beloved companion Punkin by his side was pure enjoyment. Later on in his life, Jim shared a love of travel and companionship with his wife Sherry.
Jim is survived by his wife Sherry Vogel, and his four children and ten grandchildren, Sandra Girasole (Anthony) and daughters Kathryn and Sarah, Donna Vogel and daughters and son Madison, Malarie, Mariel and Michael, Douglas Vogel (Carolyn) and daughters Brittany and Madeleine and Wendy Vogel (Greg) and daughters Samantha and Anya, and by his former wife Karen Vogel.
Jim is also survived by sisters Patricia McDermid, Margaret Mulroy, Joyce Martin, Jean Vogel, Carol McGlone, and brothers Richard, Edward, Thomas, Robert, William, Donald, John and David Vogel, many nieces and nephews and his close friend Jeff Vann.
Jim was extremely proud of his children and an adored "Papa" to his grandchildren. He never had an unkind word and will be remembered for his compassion, his conviction, his selfless care for others, and the pride he had for his family.
The family will remember Jim in a memorial service to be held privately. Those wishing to remember Jim in a special way can send memorial contributions to Nathaniel Adams Blanchard Post 1040 of the American Legion, 16 W. Poplar Drive, Delmar, NY 12054 or Hospice of the Comforter, 480 W. Central Parkway, Altamonte Springs, FL 32714.
A special debt of gratitude to Gail at Hospice of the Comforter for helping us more than she will ever know.